Part of an iconic landmark on the isle of Skye has been destroyed after it was struck by lightning.
Dramatic video footage of forked lightning hitting Castle Moil (Caisteal Maol) at Kyleakin was captured by a local hotel manager.
One of the two remaining walls of the ruined castle was seriously damaged during Wednesday night's storm.
Robert Ireland, manager of the Kings Arms Hotel, who captured the footage, described the weather as: "The worst hail I've ever seen up here. I spotted a few flashes of lightning over Kyle but didn't expect to see what I did. Within one second of filming I captured a huge fork of lightning.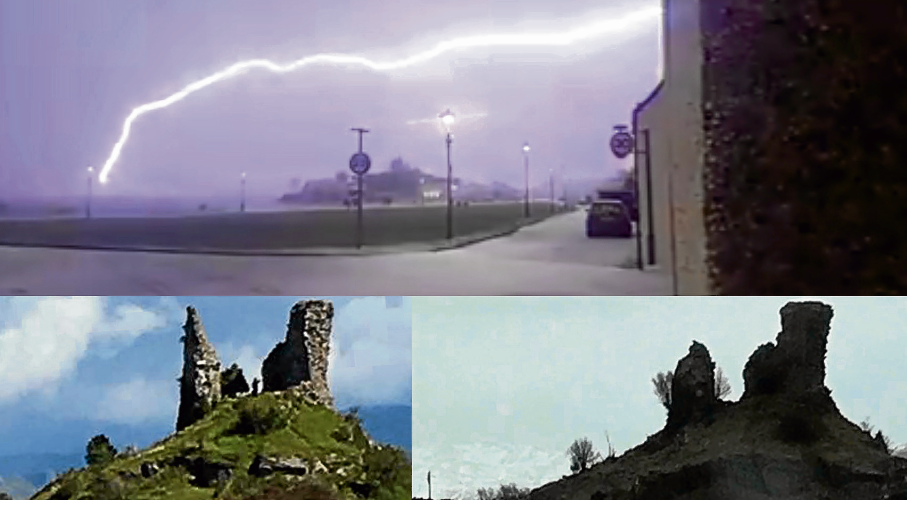 "I see it's taken a fair chunk off of the castle but we thought it hit a boat Kyle. A friend said there was a strike up the road at the Marine Harvest site as well.
"It's good publicity for the local area. I only really saw what's in the video and a wee bit before where there was like a fireball in the sky. That's when my daughter said, 'oh that was a big one.'"
Built by the MacKinnon family in the 15th century, it was the location of a meeting of chiefs after James V's death, where it was decided to raise Sir Donald MacDonald to the dignity of Lord of the Isles. Tradition associated the site with King Haakon of Norway and it may be that the visible remains replaced an earlier structure.
Caroline Clouston, chairwoman of the local history society, said: "It's quite sad, the castle is a part of Kyleakin. It's very symbolic to the village with its connection to the Vikings. It really is a part of our history."
Margaret MacRae, a local resident, recalled another time in which lightning struck the castle back in the 80s. She described the damage as, "pretty serious. The castle is a part of Kyleakin. It's our history and it's sad to see."
Local construction firm owner Donald MacLennan added: "It's devastating to see part of our local heritage in such a state of disrepair."
Historic Environment Scotland said it was working with Highland Council to assess the damage.
A Highland Council spokeswoman said: "We are aware of a partial collapse at Caisteal Maol, Kyleakin, Skye and our officers are liaising with Historic Environment Scotland. For public safety we are arranging that any approaches are segregated and signed to keep the public away from the site."