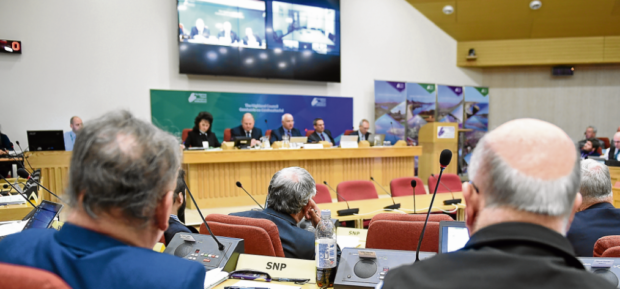 North councillors yesterday agreed a savings package to fill a £15 million budget black hole – despite a barrage of criticism from members of the SNP opposition group.
Eden Court theatre, Women's Aid groups and community councils have been hit – and drivers will be hit by new charges at previously free car parks, more expensive permits and parking rates across the Highlands this coming year.
A total of 51 full-time equivalent posts will be removed – but the council's depute chief executive, Derek Yule, said there will not be any compulsory redundancies.
A 3% increase in council tax was also approved amid heated scenes during the meeting at the local authority's headquarters in Inverness.
Highland Council leader Margaret Davidson said after the meeting that the administration – a coalition of Independent, Liberal Democrat and Labour councillors – had delivered a budget which protects education and roads.
She added: "Councillors were faced with difficult choices over the last few months as they considered how to fill the budget gap. This was complicated by the unacceptably late decision by the Scottish Government in allocating funds to the Highland Council.
"Despite those Scottish Government-imposed challenges we've delivered a balanced budget that protects the Highlands."
A motion was put forward by SNP depute leader Richard Laird to defer the budget proposals but this was voted down by members – 47 to 19.
Mr Laird said: "Every councillor today had the opportunity to say 'no' to this budget and only 19 did. All of the Independents, Lib Dems and Conservatives said 'yes'. This budget was not agreed by the whole of Highland Council – only by non-SNP political groups."
Mr Laird said members of his group did not have access to the level of cost information needed to come up with alternative proposals.
But budget leader Mr Mackinnon described Mr Laird's alternative to delay the budget as "extremely poor" and said it brought about "uncertainty".
Among the most controversial cuts is a 10% reduction – £78,000 – for Women's Aid groups.
Dingwall and Seaforth councillor Graham MacKenzie (SNP) described it as "the most invidious" and "intolerable" of proposals.
But vice chairman of the corporate resources committee, Andrew Baxter, said he spoke with members of a local Woman's Aid branch in Lochaber who told him they could cope with staff and service delivery changes, a situation he said is reflective of all the groups.
Funding to Eden Court will also be slashed by 40% – £200,000 – and is likely to impact the delivery of dance and drama qualifications and creativity community outreach programmes.
Inverness West councillor Bill Boyd (SNP) criticised the move and said the council has a "duty and responsibility" to support and encourage a theatre which is not just for Inverness but all of the Highlands.
Community Council grants will also be cut by 53% and the ward discretionary grant budget, which is there to support community projects, will also be cut by nearly half.
Wick and East Caithness councillor Raymond Bremner (SNP) said cutting community council funding will take away local empowerment, while Inverness South councillor Andrew Jarvie (Conservative) described the cuts as "problematic" and suggested looking towards replenishing these funds next year.
A £212,00 cut to maintaining children's playpark equipment was also criticised. The move will affect play areas with "low play value" or which are deemed "redundant," or those where adequate provision is nearby.
Inverness South councillor Carolyn Caddick (Independent) said: "I don't think anyone wants to make these cuts but we have to make them and, if we don't, we have to take them from somewhere else."
During the meeting, only one amendment from the Conservative group was passed, to increase income from MOT testing by £10,000 and spend the sum on grit bins.