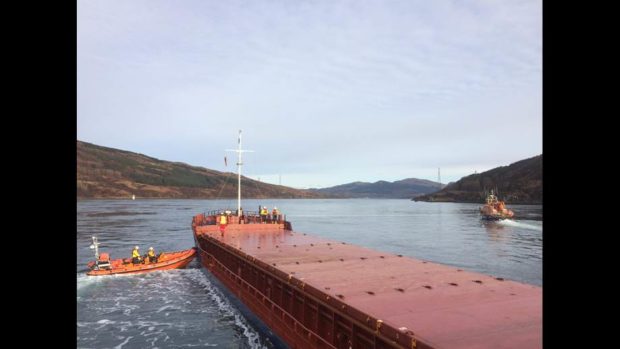 A cargo vessel was dramatically rescued by a tug and two lifeboats yesterday after its rudder jammed while it attempted to travel through strong currents in a narrow stretch of sea.
Stornoway Coastguard received the distress call from the 213ft-long Latvian-registered CEG Universe at 6.50am.
Kyle of Lochalsh and Mallaig RNLI Lifeboats were sent to the scene as the drama unfolded in the Kylerhea Narrows between the isle of Skye and the mainland.
Spirit of Fred Olsen, the Kyle lifeboat, launched at 7.44am and raced towards the cargo ship, which was using its anchor to try and hold position in the very strong tidal currents through the narrows.
The lifeboat arrived at 7.53am and sent crew members aboard the stricken vessel to assess the situation, whilst awaiting the arrival of the larger Mallaig Severn class lifeboat.
Kyle lifeboat press officer, Andrew MacDonald, who took photographs and video footage of the incident, said: "Due to the eight knots of tide which runs through the channel, and the fact that the cargo vessel's rudder was jammed full to port, it was decided to wait for a tug to assist with the tow.
"Whilst awaiting the arrival of the SD Kyle of Lochalsh from the BUTEC base in Kyle, the casualty vessel's anchor brake failed and the vessel began to drift backwards.
"Mallaig and Kyle lifeboats took the cargo vessel under tow and held it against the current until the tug arrived on scene at 10.15am.
"The SD Kyle of Lochalsh and the two lifeboats then manoeuvred the cargo vessel through the narrows and towed it into Kyle Harbour at 12.10pm. The lifeboats were then stood down."
The CEG Universe had sailed from Kilroot in Northern Ireland. It was in the process of carrying road salt to Gairloch.
A spokesman for Stornoway Coastguard added: "They had a problem with their rudder going up Kylerhea, a fairly narrow channel off Kyle.
"The ship put its anchor out and Kyle and Mallaig Lifeboat went down to stand off. We got the tug from Kyle of Lochalsh to go and tow it into Kyle."