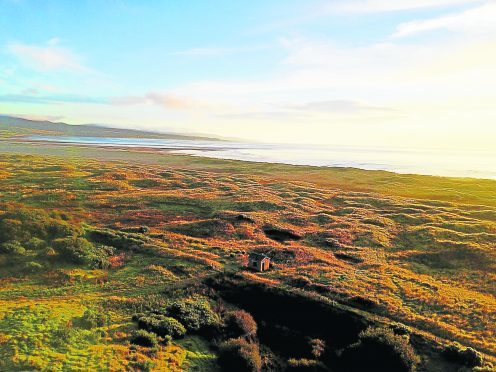 The president of a leading golf travel company says the proposed Coul Links golf course in Sutherland would be a "modern masterpiece" that would have an "unimagined positive impact" for the Highlands.
In September, US golf course developer Mike Keiser and businessman Todd Warnock submitted their plans for the 18-hole development, north of Embo. While many locals have expressed support, a coalition of conservation groups are campaigning to stop the proposals which they say would threaten wildlife in a Site of Special Scientific Interest.
And a petition set up to oppose the development has drawn nearly 88,000 signatures.
But Gordon Dalgleish, co-founder of Perry Golf, says he has seen first hand how Mr Keiser has transformed communities by building golf courses at both Bandon Dunes in Oregon and Cabot Cliffs in Cape Breton, Nova Scotia.
Mr Dalgleish, who has been running tours in Scotland and around the world for 33 years, said there was just one hotel at Bandon when he played there in 2001, and described the change to the community 17 years on as "remarkable."
He said: "Employment and business opportunities are bringing an entire population back to a region which was slowing fading away."
Mr Dalgleish believes Mr Keiser's ethos is to create an enjoyable golf course which creates "sustainable economic impact" by avoiding glitz, glamour or self-promotion.
And he has praised the "blue chip" design team of Bill Coore and Ben Crenshaw for their track record of working with the land, instead of moving large volumes of earth, when building golf courses such as Cabot Cliffs or Lost Farm in Tasmania.
He added: "I have no doubt that they will produce a modern masterpiece which will receive the recognition needed to make golfers consider Coul Links as part of their purchase decision to come to the Highlands of Scotland.
"I can say without a shadow of doubt that in the event Coul Links is built as proposed, it will have an almost unimagined positive economic impact on the region."
Mr Dalgleish also says critics who say there are enough links courses in Scotland "miss the point" in that affluent golfers will gladly pay for the privilege of new, top class golfing experiences.
He highlights that Royal Dornoch was for many years the premium golf course in the Highlands and that, when Castle Stuart was built, there was an upturn in demand.
He adds: "By adding a third known course, as these gentlemen would create, it will cause new visitors to travel to the Highlands, and it will ensure that existing visitors will extend their stay. With every extra night come dinners, bottles of wine, caddies, accommodations, rental cars, etc. Golfers spend money in the local economy, of that there is no doubt."
Tom Dargie, chairman of the local Not Coul campaign group fighting against proposals for Coul Links golf course, claims the economic benefits of the golf course have been "much-exaggerated."
He added: "The layout will wreck the beach and interior of a very fine dune wilderness with abundant wildlife, protected under national and international designation. It contains two holes and two tee sets which are under near-immediate threat of coastal erosion. This shows shocking design, disrespecting advice from Scottish Natural Heritage on sustainable course design. What to an elite golfer might look like a nice day's recreation would instead be a species-poor lawn expanse protected by stone seawalls.
"Scotland will lose a natural crown jewel which, undeveloped, will adjust naturally to coastal change."
A coalition made up of the Scottish Wildlife Trust, Buglife Scotland, Butterfly Conservation Scotland, the Marine Conservation Society, Plantlife and RSPB Scotland has been campaigning to stop the proposals.
Yesterday Bruce Wilson, senior policy officer at the Scottish Wildlife Trust, said: "Coul links is a special wild place which is protected by a number of national and international designations. We are concerned about the impact that the current plans will have on a range of habitats and wildlife, including a unique complex of sand dunes.
"Dramatic landscapes and wildlife are regularly cited by VisitScotland as being among the biggest draws for visitors coming to Scotland, and we would hope that the Highland Council takes into account the value of our natural environment for tourism when it comes to considering this application later in the year."