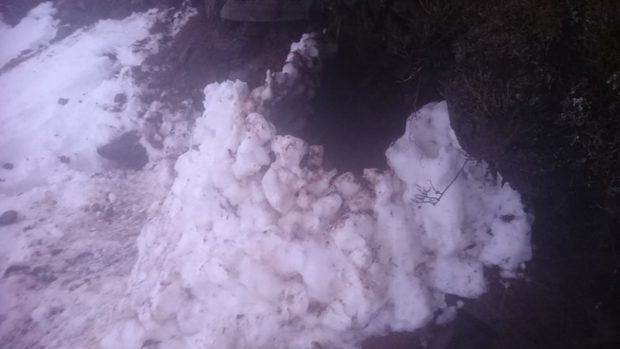 A north climber has thanked rescue teams for "saving his life" after he fell and lost his compass in white-out conditions in the Cairngorms.
Ben Thomas lost his way near the 3,087-ft summit of Carn na Caim, to the east of the Drumochter Pass, as he made his descent.
As darkness fell and with no phone signal, the 30-year-old from Inverness was forced to build a snow shelter by a peat bank in a valley to stay overnight in the hills – but he could not sleep.
At first light, he set off and managed to scramble up a slope known as Vinegar Hill where he dialled 999. He built a snow fort for shelter and stayed there for four hours before his phone died – and then started walking in good visibility to find a higher point.
Cairngorm and Tayside mountain rescue teams were dispatched along with the Inverness Coastguard helicopter, which spotted Mr Thomas and managed to land and take him to safety.
Mr Thomas, who says he has been climbing most weekends recently, said: "I can not thank the rescue teams enough really.
"I was incredibly relieved. At that point I knew where I was and possibly could have got down through sheer determination, but I didn't know if I had the energy. Even waving my arms was hard work. I could have easily started to plunder down and fallen into a snow drift.
"The helicopter came from the north and originally went down a valley and I was frantically waving. They went to the south and they came back and I was trudging along after the helicopter and they spotted me.
"There was definitely that thought that they probably did save my life. I am going to write to thank them all.
"I did not have a fantastic amount of equipment on Sunday because I was not expecting it to be a fantastically long day. If I have learned anything, it's definitely to make sure you prepare for any eventuality."
Mr Thomas, who lives in Culduthel in Inverness but is originally from Gairloch, set off on his climb at about 12.30pm on Sunday.
Shortly after starting his descent, Mr Thomas said he fell and dropped his compass in a snow drift which put him in bother.
He then tried to navigate his way down to the south-west using Google Maps on his phone – but the GPS signal proved unreliable.
He followed a stream down but this led him into a steep-sided valley to the south of where he had intended.
After being rescued on Monday, Mr Thomas was flown to a meeting point at Dalnacardoch Lodge where rescue personnel made sure he was kept warm and gave him food and water.
Yesterday Mr Thomas said he still felt exhausted from his ordeal.