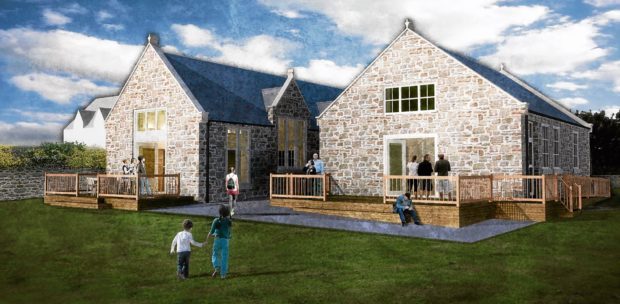 Three projects in Sutherland have received thousands of pounds worth of LEADER funding to help bring their aspirations to life.
Sutherland Community Sports & Recreation Hub has been awarded  £31,217 towards the development of a multi-use games area in Golspie.
The project will include the development of a remaining derelict building to provide multiple play areasfor basketball and netball.
John Murray, Treasurer of Sutherland Community Sports & Recreation Hub said: "Half of the old Blaize pitch was upgraded to an all-weather football pitch in 2014.  This has helped to enhance Golspie as a hub destination for sports across rural east Sutherland.
"We've seen an increase in interest for basketball and netball, however there is currently no suitable facility to meet this demand. LEADER funding will contribute towards developing the remaining derelict ground at the pitch to provide a playing area for two basketball and netball courts."
The Embo Trust is also set to benefit from vital funding after being awarded £30,534 to transform an old school to create a multipurpose village hall fit for a number of activities and classes.
Jim McGillivray, Chair of Embo Trust said: "The Trust has secured funding to renovate the old school to create a village Community Hub with multi-purpose hall for activities and classes, community shop and outreach post office.
"LEADER funding will help establish a commercial café/restaurant unit within the new centre.  As well as proving employment and training opportunities, the income generated by the café will be essential for the long term sustainability of operating the centre."
Also benefiting from a funding boost of £29,349 from LEADER is Strathnaver Museum.