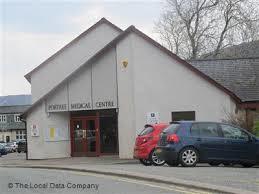 Sir Lewis Ritchie met local campaigners on Skye yesterday as part of a review of health care services on the island.
The review, commissioned by NHS Highland, is considering out of hours urgent care services.
Portree Hospital suspended its out of hours service earlier this month and during the festive period due to an ongoing staffing crisis.
Campaigners are concerned that services at Portree are being reduced while more cases are sent to Broadford on the other side of the island, a 40-minute drive away.
In 2014 a new rule was brought in that ambulances were no longer able to stop at Portree in an emergency and must continue on to Broadford.
Sir Lewis chaired a national review of NHS out-of-hours services in 2015. Yesterday he met representatives of SOS-NHS Skye (save our services) and four ward councillors in Portree.
Portree-based Councillor Ronald MacDonald said: "We had a good discussion. We shared our concerns with him and he seemed receptive to that.
"The community is concerned about the move from a 24/7 out of hours care service at Portree. That has been without any consultation.
"This is a huge concern for what is the town with the main population on Skye and one of Scotland's leading tourist destinations.
"It seems rather perverse to expect people to travel to a place where they may not be able to reach in time to save their lives."
Kate Forbes MSP said: "I strongly urge anybody with views on out of hours and urgent care in Portree to make sure they contact Professor Sir Lewis Ritchie.
"During the course of this review, it is critical that everybody has the opportunity to contribute their views.
"Many people have raised concerns with me in the past and that is partly why I supported this external view.
"I would now recommend that everybody email Sir Lewis Ritchie with their experiences, comments and concerns."
Sir Lewis started his four-day visit to the north on Monday. He is meeting representatives from the SOS-NHS action group; elected members; representatives from community councils of North Skye, Glenelg, Raasay, South Skye and Lochalsh; and key NHS Highland partner agencies including the Scottish Ambulance Service (SAS), NHS 24, the fire service, police and the coastguard.
He said: "I am keen to meet as many people as possible."