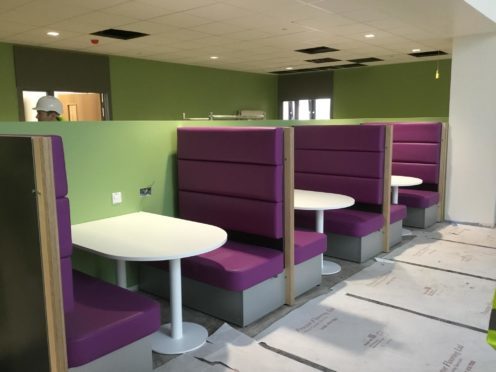 High school pupils and staff in Oban are preparing to move into their new £36million building.
About 900 pupils currently attend the secondary school, and the new facility will allow the roll to increase to 1,300.
With less than two weeks remaining at the old amenity, a series of pictures showing a sneak peek of the new building have been uploaded on the Oban High School Facebook page.
Smart new booths, common areas and classrooms can be seen in the images.
The classrooms have new 80ins TV screens to replace the old blackboards, and pupils will enjoy modern PE facilities – including a 3G pitch and grass playing field.
Oban Councillor Roddy McCuish said it would be a community school, and added: "I will be looking for the school to be used as much as possible for community purposes, even during the holidays."
A progress report will be delivered to Argyll and Bute Council's Oban Lorn and the Isles area committee meeting on Wednesday.
In the report, Mike Casey, schools redevelopment project manager, tells councillors: "Planning for the decant of pupils, staff and resources has continued throughout the past months.
"Exceptional closure days for pupils have been granted by the Scottish Government to assist the decant process that will take place in April 2018."
While the pupils and staff will move into the new school next month, external works including demolition of the old building, construction of a car park, bus drop-off and landscaping will continue until next February.
Mr Casey added inspections were being carried out floor-by-floor to ensure it is ready for opening.
Pupils will finish school in the present building on March 27, and will return to the new resource on April 18 after the Easter holidays.