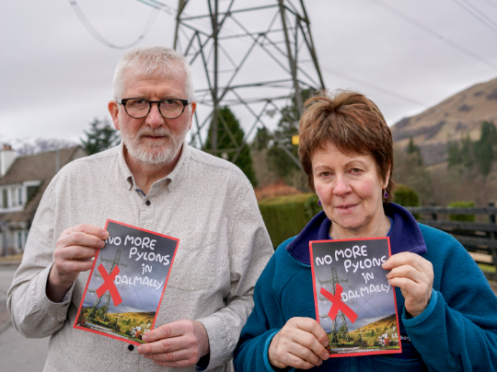 A Highland village which is already the location of 29 electricity pylons has launched a campaign against plans to install a further 25 through the area.
At 150ft tall, the new pylons will be around twice the height of the existing ones in Dalmally, near Oban.
Scottish and Southern Electricity Networks is reinforcing its services in north Argyll, and believes the Dalmally to Creag Dhubh element will enable projects to connect to the electricity network.
As part of this scheme, there will be a new Creag Dhubh substation and 275kV line between Creag Dhubh and Dalmally.
However, local grandmothers Ruth Black and Ishbel Livingstone have started a protest, designed to spread the message: Dalmally doesn't want any more pylons.
Mrs Livingstone said: "People are worried about the health risks. They are proposing several routes – all encroaching on crofting or farming land or near houses.
"We have a terrific number of pylons in Dalmally, there's even one in the centre of the village.
"You can hardly take a picture in Dalmally without a pylon in it. We have Kilchurn Castle nearby at Loch Awe, so we rely on tourism, but this must make people think twice about coming.
"There are already 29 pylons cutting through Dalmally and people are seriously upset about this proposal. It will make a difference to house prices and people come here for the beauty of the place.
"SSEN do have options, they could take the cable under the loch or put it under the ground. I think we suffer enough from pylons."
The company is holding a series of consultation events next week, with the first on Monday March 19 in Dalmally Community Centre from 2-7pm.
A similar event will take place during the same timeframe in Kilchrenan Village Hall on Tuesday 20, with another on Wednesday 21 in Portsonachan Village Hall and again on Thursday March 22 in Taynuilt Village Hall.
A spokeswoman for SSEN said: "Our proposals to reinforce the network in North Argyll have been developed based on a balance of environmental, technical and economic considerations.
"These plans are still at an early stage of development and, as a responsible developer, we are committed to working with the local community and other interested stakeholders through an open and comprehensive consultation process.
"Any views or concerns raised by the local community will be considered seriously."