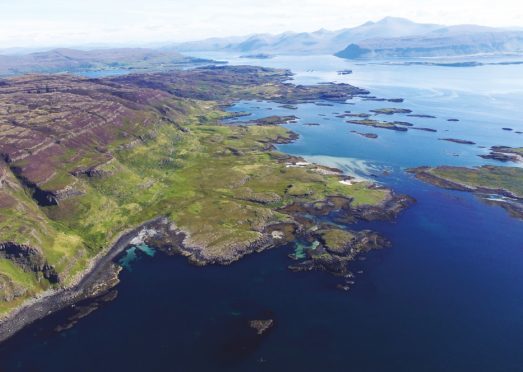 The community group bidding to buy Ulva has gained a massive boost with a £4.4million award from the Scottish Land Fund (SLF).
The little island in the Inner Hebrides was put on the market last year by current owner Jamie Howard for £4.25m.
A group known as the North West Mull Community Woodland Company (NWMCWC) subsequently launched plans for a community buy-out.
And its members were delighted to learn they have been given the cash, which will allow them to open negotiations for the purchase of the Ulva Estate and associated land and buildings.
Funded by the Scottish Government, the SLF supports local communities by helping them take ownership of land and buildings which matter to them.
The woodland company, the first group to register interest in an island under the government's Community Right to Buy legislation, now has until June 9 to agree terms with the current owner and raise the rest of the funding it will need.
The group plans to purchase the estate, which spans 2,000 hectares and includes the Isle of Ulva, as well as some land on Mull.
Colin Morrison, the chairman of the company, said: "This award from the Scottish Land Fund is hugely significant, not only for Ulva but also more broadly for north-west Mull.
"Our top priority is to renovate the existing buildings and provide secure leases for present and new residents and businesses.
"We aim to have 20 or more people living on Ulva within two or three years, rising to as many as 50 or more as new houses are built.
"Social and economic development of Ulva will bring benefits to the neighbouring communities on Mull.
"Schools, shops, local services and industry will all receive a boost from the increased population and also from the increased number of visitors we are confident we shall see."
Roseanna Cunningham, environment and land reform secretary, added: "Today's award should provide the NWMCWC with the means to make a fair and serious offer for the island.
"This is further demonstration of the Scottish Government's commitment to empowering communities via land reform – enabling them to determine their own futures."