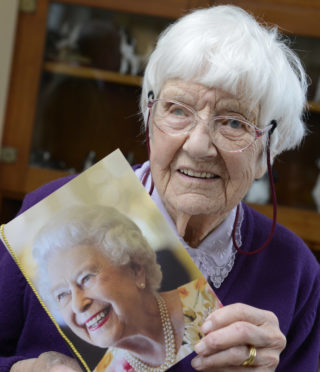 Dozens of people attended a very special celebration for Lochaber woman, Mona Brown, who celebrated her 100th birthday.
The party was organised by the local community with around 70 people in attendance amid the splendid scenery around Ardshealach Lodge, Acharacle.
Her closest family was in attendance for the special day including her second cousin and his daughter from Blackpool, Jeff Irving and Viv Taylor.
A number of people gave short speeches pointing out that she was born as the First World War was coming to an end and was 21 when the Second World War broke out.
She was complimented for always having a positive attitude to life and offering friends and strangers alike a big, enthusiastic smile.
Mrs Brown was presented with the three parts of her birthday cake by local children with a section shaped like a number representing 100.
All three pieces of the cake also carried a symbolic meaning and represented the past, the present and the future.
One of the high points of the day was when Depute Lord Lieutenant Iain Thornber arrived as the representative of the Queen to deliver the monarch's personal birthday greetings and a card.
Mrs Brown was also presented with a bouquet of flowers by Councillor Andrew Baxter and a letter of congratulations from Ross, Skye and Lochaber MP, Ian Blackford.
She said: "I am totally surprised by what has been done for me here and would like to thank you all.
"I am also delighted with the card from the Queen, which is wonderful – doesn't she just look great on it?"
She added: "I have no secret for living to 100, only that I don't think about age and take every day as it comes."
Before the party, there was a special service at the Acharacle Church of Scotland led by Reverend Fiona Ogg.
She had decorated the church with balloons down each side of the aisle and a Happy Birthday banner while members of the congregation also brought in potted flowers.
Rev Ogg said: "Mona is a very enthusiastic member of the church and is a popular member of the community.
"I know she will be coming along to the next session of 'Messy Church' this week, doing crafts and speaking with the children."
Mrs Brown has witnessed radical change during her lifetime, including the Second World War, the rise and fall of communism in Eastern Europe, the advent of the EU and the internet, and she has seen 20 different British Prime Ministers.
Having entered the world the year after the Russian revolution, she turned 100 on the same day Russia staged its seventh presidential election.
Born in Lancashire, she moved to the village of Salen in Ardnamurchan with her husband Leonard in 1976 after discovering it on holiday.
The pair decided they would settle there and, after building a house, she has lived in the community ever since.