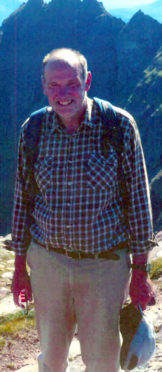 Mountain rescuers have found the body of a north hillwalker killed in a suspected avalanche with his brother and dog on a Highland mountain six weeks ago.
The Torridon Mountain Rescue Team had been searching on a weekly basis for Neil Gibson, 63, from Nairn, since the tragedy.
Eight team members finally discovered his body on Sunday on a west coast mountain in Strathcarron.
A major land and air search operation had been launched last month to find the brothers, Neil and Alan Gibson, who had gone missing while walking in Achnashellach with Neil's pointer dog Archie.
The body of Alan Gibson, 56 and based in Durham, was found three days after the alarm was raised. The body of the dog was found several days later.
Arjen Hendricks, the Torridon mountain rescue team leader, said they were able to recover Neil's body following a period of snow melt in the area.
He said: "We have been sending out teams every week in the hope of finding Neil Gibson and thankfully we found his body following a prolonged period of melted snow.
"We had been walking over the area every week but he had probably been buried under about five to six feet of snow.
"We headed out at 8am on Sunday and did a line search in the area where we had previously found the bodies of his brother and his dog."
The team came across Neil Gibson's body at around lunchtime.
Mr Hendricks added: "It was with a sense of sadness when we finally made the discovery, but also there was relief that he has finally been found, bringing closure to his family."
The brothers were reported missing on February 8 when they failed to return from a walk, having set out at 7.45am that morning.
Sergeant Graham Cameron said: "I would like to take this opportunity to express my sincere thanks to all the volunteers and partner search agencies that made tireless efforts to find Neil, Alan and Archie. As always, they persevered and worked incredibly hard to battle some difficult and dangerous conditions in the hope of giving their family and friends some closure.
"My thoughts remain with Neil and Alan's family today, who have shown such strength and bravery when faced with such a tragedy."
IT specialist Neil was the eldest of four brothers whose late father, Cameron, was a minister in Nairn. He was a talented footballer, playing for Nairn County in the 1970s and later coaching its youth team for some years.
Rev Tommy Bryson, of Auldearn Church of Scotland where Neil was an elder, said: "I am glad his body has been found and it brings some closure to the family.
"Neil was a super guy who was very much part of the church family in the community. He wil be greatly missed."