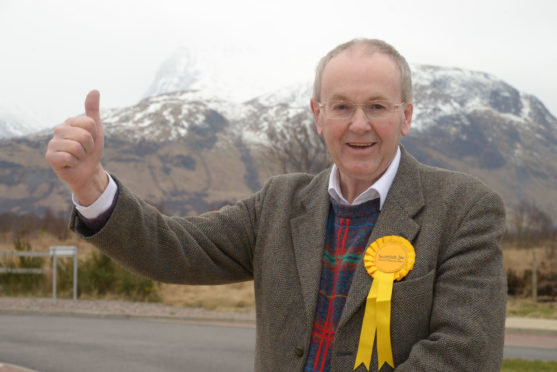 A Liberal Democrat has won the Highland Council by-election for the Lochaber and Caol ward.
The newly elected Denis Rixson said he is keen to "do a job of work" after winning on the fifth round of voting with 968 votes.
He overcame Alex McInnes of the SNP who got 737 votes while three Independents and one Conservative were eliminated in the preceding rounds.
Mr Rixson, a resident of Mallaig for 42 years, will now join independent councillors Allan Henderson and Ben Thompson in representing Ward 11.
The ballot was called following Billy MacLachlan's death in January.
The new councillor said the first order of business is "to learn the ropes" and not enter council "like a bull in a china shop".
He said: "I am keen to fight the corner of the ward – while campaigning I've met lots of people with lots of concerns.
"Affordable houses for young people and long-term affordable care for the elderly people were the two most commonly mentioned to me."
Mr Rixson puts his success down to spending a lot of time going around the ward making himself known to the electorate.
"I spent a lot of time going around homes. There are over 3,700 homes in the ward and I personally delivered 2,000 calling cards."
But he regrets not being able to canvass the entire ward particularly as "small areas can be missed, they can feel ignored".
Mr Rixson said: "The two things I am most focussed on is affordable accommodation, particularly for young people, and long-term care for the elderly.
"But I am also very focussed on small business development, I am very keen on supporting as many small businesses as possible and building that up."
As a councillor he also wants the people in his ward to "feel they have someone they can contact who will pursue whatever issues they have.
"Regardless of party politics they want someone to shout for their interests, particularly in areas such as this."
MSP Kate Forbes congratulated Mr Rixson on his victory saying Highland Councillors can make a "big difference."
She said: "I look forward to working with Mr Rixson, as I work with all councillors in my constituency.
"I know from working with councillors of all parties and none across my constituency that the council is probably the most important layer of democracy."