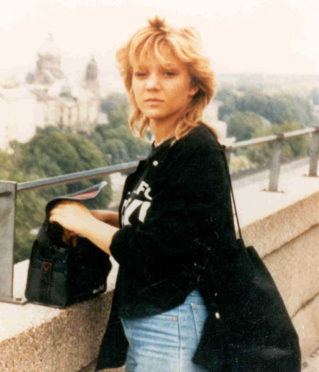 Detectives hunting the killers of a German backpacker who spent time in the Highlands just before her death have travelled to Scotland in an attempt to piece together her final movements.
Inga Maria Hauser was last seen alive 30 years ago, as she journeyed by ferry from Scotland to Northern Ireland on April 6, 1988.
The 18-year-old's body was found dumped in a remote part of Ballypatrick Forest on the outskirts of Ballycastle, Co Antrim, a fortnight later.
But she had been in Inverness, cashing a travellers' cheque, in the days before she left Scotland – and now detectives want to know more about what she did in the north.
No one has ever been convicted of her killing but police have warned that the net is closing on the killers.
The officer leading the investigation, Detective Chief Superintendent Raymond Murray, said: "The murder was brutal, the attack was brutal and the assault was brutal but there is something horrendously callous about leaving that young girl's body lying unattended in a forest for 14 days.
"All murder is outrageous but that gives another dimension to the horror of that final evening."
Investigators believe that communities in Scotland may also hold vital information about Ms Hauser's movements during her two-day visit before she embarked on the Stranraer to Larne ferry.
A team of detectives handed out leaflets to passengers on board and spoke to those waiting in terminals at Belfast and Cairnryan.
Mr Murray said: "We already know Inga Maria's movements during her journey around England from London to Bath and on to Liverpool. However, we need to know more about what she did and who she met while in Scotland."
Miss Hauser's poignant notebook entries from the time read: "Morning has broken in Scotland. Breakfast in Inverness. Nice town. Have to see the Loch Ness monster one day. Going to Glasgow now. Snowy mountains and wild landscape. Scotland is beautiful."
Miss Hauser cashed £20 in traveller's cheques in Inverness.
Mr murray added: "I appreciate a lot of time has passed but we need to know places Inga Maria visited.
"She will have stood out from the crowd with her German accent and distinctive style of clothing – she was wearing baseball boots and a long, flowing skirt possibly multi-coloured, a jacket, possibly denim with a large blue rucksack. On top of this rucksack was a smaller bag with distinctive US Air Force badge."
Police believe a number of people may have been involved either directly or in the cover-up of what remains one of Northern Ireland's most high-profile unsolved murder cases.
They also have a male DNA profile from the crime scene but have yet to secure a positive match.
Mr Murray added: "We are investigators and we keep an open mind but the evidence and the information and the intelligence that we have to date has led us to focus on a very, very small number of individuals.
"They will know who they are."
The senior detective is leading a two-week awareness campaign in a bid to secure the last pieces of the evidential jigsaw.
He added: "What we need is just those few fractional pieces of evidence to help us complete the picture. We think we are close."