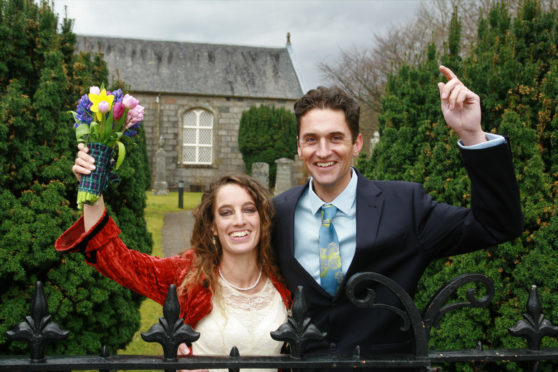 A happy New Zealand couple have just travelled around the world to tie the knot in a remote Lochaber church.
Richard and Bridget Weeks married after taking the ferry over from Corran for the service in Ardgour Parish Church.
The Auckland couple originally wanted to marry in England so that Mr Weeks's parents could attend.
But when they looked into it they would have had to spend 28 days there before marrying – which meant no honeymoon.
The groom remembered a happy holiday north of the border and that is when the idea of coming to Scotland was born.
Mr Weeks said: "We wanted to get married in England but you have to wait 28 days before the wedding and that is all our annual leave.
"So we wanted to have a holiday after the wedding rather than one before it."
He added: "We chose Scotland because we were attracted by the scenery and looked for a small church that is how we found Ardgour."
The new bride was delighted with the choice saying "I was quite keen – I had never been to Scotland before and it has been really good."
Mrs Weeks said: "It was lovely, the minister was great. There was a ferry and my Dad drove us there, we were a bit late so we got the next one.
"It was all quite straightforward: the weather was mild though it did start to rain later and then we will have the reception in the Cruachan Hotel."
To help the couple celebrate Mrs Weeks' parents and two sister joined Mr Weeks parents for the ceremony and reception.
For the new Mrs Weeks one the most memorable and pleasing aspects was the spectacular views she enjoyed from her hotel room.
She said: "I think what was one of the nicest things was staying in the hotel here overlooking the loch and the mountains.
"Every morning you would wake up and look out over the loch – you could look at that forever, we both loved it."
Before arriving in Fort William on Tuesday the couple travelled through the country seeing Edinburgh and Stirling where they were surprised by the Mel Gibson/William Wallace statue.
Now the two who met through their work as clinical coders will now do some more travelling by taking in the Highland capital Inverness before heading down to Cornwall.