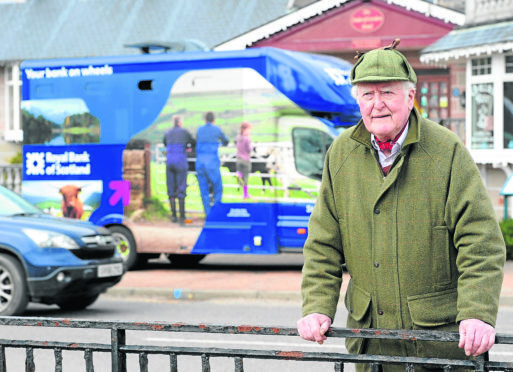 North community leaders have erupted in fury after it emerged that RBS will slash its mobile bank van services amid a raft of branch closures.
The Wick, Tain, Mallaig, Nairn, Aviemore and Grantown properties are set to close in the coming weeks and mobile van replacements will be required, meaning vehicles will be spread thinner across neighbouring towns and villages.
In Kingussie, which lost its last bank last year, the van will only stop for 20 minutes once a week – replacing 45 minutes on Mondays and Fridays – for all of its customers there to conduct their face-to-face banking. The changes on this route will come into effect on May 21.
From next Monday, customers in Spean Bridge will only get a 15-minute window on Thursdays instead of the current 45 minute slots on Mondays and Thursdays.
And in the far north, the van will no longer visit Helmsdale, Rogart or Latheronwheel, with the frequency of visits increasing from once every two weeks to once a week in Golspie, Brora, Bonar Bridge, Lairg and Dunbeath.
A spokesman for RBS said they regularly review their mobile branch and that the timetable changes reflects the changing ways customers are using the bank, including more use of online services and less over-the-counter transactions.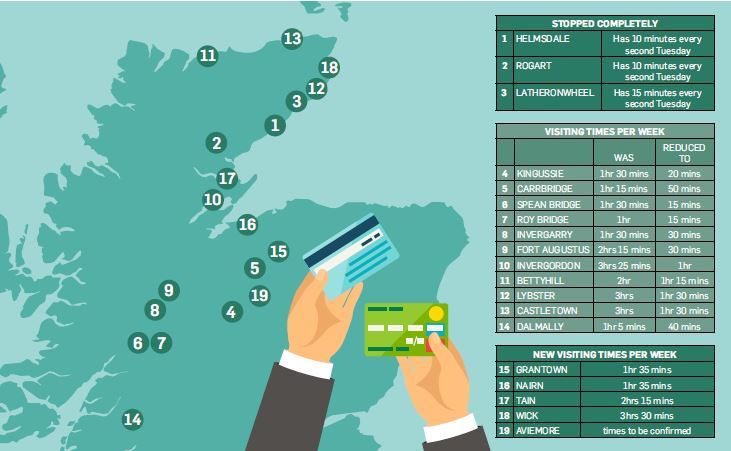 But Joseph Taylor, former chairman of Kingussie Community Council and a former bank manager for 20 years, said: "To cut it to 20 minutes a week is just appalling. I would bet they will have more than 20 people in Kingussie who bank with RBS and, if every customer turned up, they could only give their customers a minute each.
"Everything is centralised now. In days gone by a bank manager ran his branch more or less as he saw fit."
Skye, Lochaber and Badenoch MSP Kate Forbes said she is "very concerned" with the situation in Kingussie and stressed that, while many are choosing to bank online, not everyone can and will.
Allison Cowie, chairwoman of Helmsdale Community Council, said it was "really sad" to see the loss of the RBS van in her village while Golspie and Brora – which have open TSB and Clydesdale branches respectively – will get a more frequent service.
In Invergordon, which lost its last bank – an RBS – in 2015, the van will now only visit for an hour on Tuesday afternoons instead of one hour and 40 minutes on Thursdays and one hour and 45 minutes on Tuesdays.
Invergordon Community Council chairwoman Valerie Campbell-Smith fears there will not be enough time for all existing mobile branch customers to be seen in the new time slot, adding: "I think investing (in another van) is the way they should go."
In Tain, the mobile van will visit from 12pm to 1.15pm on a Tuesdays and from 12.05pm to 1.05pm on Fridays.
Caithness, Sutherland and Easter Ross MP Jamie Stone, said: "This is laughably short of the mark but the fact is, this is a particularly desperate situation and people who need the Royal Bank will lose out. It's simply not good enough and time will prove this. My campaign continues to stop branch closures."
David Richardson, Highlands and Islands development manager of the Federation of Small Businesses, said cash is "still king" in a Highland economy which depends largely on tourism, and stressed that businesses need access to banks to deposit and withdraw cash.
He added: "It's just one more sign the banks are turning the screw on small, remote communities. It's a matter of deep concern."