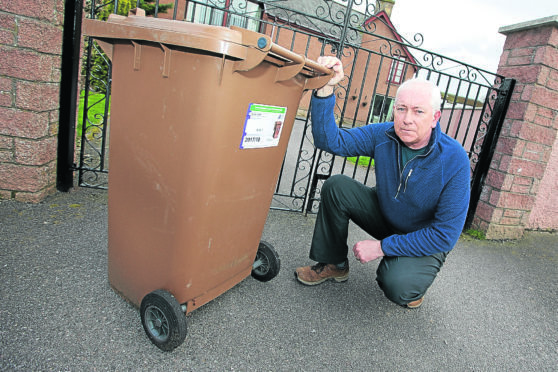 Highland Council has come under fire for announcing a hike in garden waste pick-up fees just months after introducing the charge.
Until last year, homeowners were entitled to a free brown bin service during the summer months for refuse such as hedge clippings and cut grass.
But in June, the council imposed a £30 annual fee on anyone wanting to continue using the pick-ups.
And now, it has emerged that from this June, collections will be charged at £35 – up 16% in just a year,
Nick Anderson, 43, of Inverness is one of those who spoke out against the introduction of charges last year and says he is not surprised at the quick hike.
He said: "That is the first I've heard that the prices were going up but I suppose that isn't really a shock as last year we didn't hear about the prices being introduced until the very last minute.
"Highland Council does not seem to be very forthcoming with information. It is definitely cheeky of the council – with no information released prior to the rise once again."
Jack Shepherd, a member of the Dingwall Community Council, fears the latest charge could have a serious negative impact.
He said: "I thought that the brown bin charge was always a recipe for more fly tipping, so an increase will be a step too far for some people.
Mr Shepherd questioned whether the implementation of the service could affect elderly people more who do not have the same options.
He said: "My mother has had to wait for a late sticker authorising her bin to be emptied which resulted in her missing two of the council collections.
"This year I would suspect that more people will use the recycling centre due to the poor performance of the Highland Council in issuing the authorisation stickers and the fact that they didn't get what they paid for last year."
A council spokeswoman said the increase was agreed in February, adding: "The council had a budget gap of £15.146 million to bridge which has been met by a package of savings which includes increasing council tax income by £3.448 million, increasing income by £3.059 million, reducing expenditure by making savings of £5.1 million, and setting a target of £2.250 million to be saved through redesign.
"The garden waste collection service was originally introduced in 2005 and funded by the Scottish Strategic Waste Fund. It is not a statutory service that Councils have to provide and is now an optional service.
"Householders who do not wish to pay for a garden waste collection can continue to use the council's network of recycling centres."