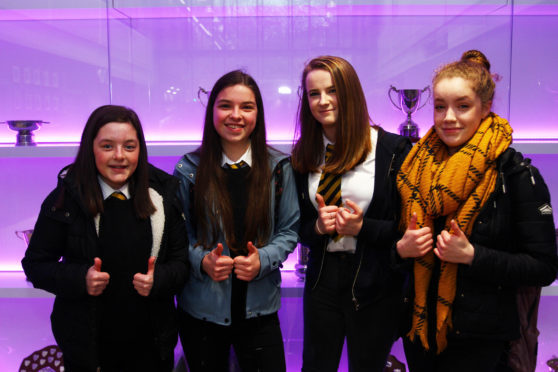 Expectations and excitement were high when Oban pupils spent their first day in the brand new £36million high school yesterday.
For the majority of the 900 students, this was the first time they had set foot inside the new building.
Work by school and council staff had continued over the Easter holidays to make final preparations for welcoming pupils into their state-of-the-art facility.
Peter Bain, Head Teacher said: "We are enormously excited to be moving into our new school. Our new facilities will provide a fantastic educational experience for everyone in the community. I would like to say a huge thank you to the special projects team and my own staff for all their efforts in getting us ready for opening day."
The school has capacity for up to 1,300 pupils, allowing for an increasing number of pupils in future years.
Head girl, Mila Bicanova said: "Coming back to a brand new school after the Easter holidays was very exciting – a chance for a new start with fresh motivation for the forthcoming exam period.
"The new school looks amazing and modern, with plenty of natural light, new hi tech facilities, such as the gyms, dance studios, fitness rooms, and sensory rooms, and a fantastic entrance and foyer area. The new school looks like a bit of a tardis, but it has plenty of space for everyone, including two new dining areas, which means there will be less time spent queueing, and more time for study."
Councillor Yvonne McNeilly, policy lead for education, said: "We want to give our young people the best start in life, to set them up with ambition and ability to succeed in whatever ways they want in their lives. Learning in a fantastic facility like this one will undoubtedly support this. Congratulations to everyone who has worked so hard to deliver this excellent new school for our young people."
The old school will be demolished to make room for external social space, a new bus drop off area and more school car parking.
The new school has been built by Argyll and Bute Council in partnership with hub North Scotland Ltd and the Scottish Futures Trust through the Scottish Government's Schools for the Future programme, with Morrison Construction as the main contractor.