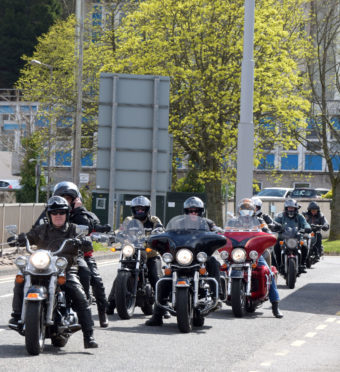 The first every Rumble By the Ben Harley Davidson rally took place in Fort William at the weekend with organisers promising that next year will be an even bigger and better event.
A group of Harley enthusiasts camped at Fort William Shinty Club where they based themselves for the weekend.
They enjoyed a casual social evening on Friday before putting on a spectacle for the public with a bike show at the club on Saturday.
The show also involved the Fort William section of the Vintage Motorcycle Club and a fine selection of classic and Harley motorcycles were on display.
After the bike show, the Harley owners enjoyed a ride-out across the Corran Ferry and around Ardnamurchan in the beautiful sunshine. They stopped at Acharacle for tea and cake before enjoying a party with live music back at the shinty club.
About 15 people from Stonehaven, Edinburgh, Glasgow, Blairgowrie and Dunkeld took part.
Organiser of the event, Chris Jones from Fort William, owns three Harleys – a motorcycle from 1930, 1942 and 1990.
His 1930 bike was in Saturday's vintage display and he took his 1990 motorcycle on the ride out.
Mr Jones said: "We are the North of Scotland Region of the Harley Davidson Riders Club of Great Britain.
"We are already talking about next year. This event was an enormous success, it was very popular with everyone who attended. We expect a lot more people next year. We purposely kept this year low key so that we could learn how the event would work. There is quite a lot to the organising of it.
"Next year will be bigger and better. The people who took part this year will be putting the word out."
As well as organising another Fort William event, next year the North of Scotland Region will join with the Central Belt Region to celebrate the 70th anniversary of the club. They will hold a spectacular display involving bikes from all over Europe at Kelso Show Ground.
Held every August around Aviemore, Thunder in the Glen is one of Europe's largest annual gatherings of Harley Davidson motorcycle enthusiasts.
Motorcyclists attend in their thousands, with more than 2,500 taking part last year. When it first started, the gathering involved about 200 riders.