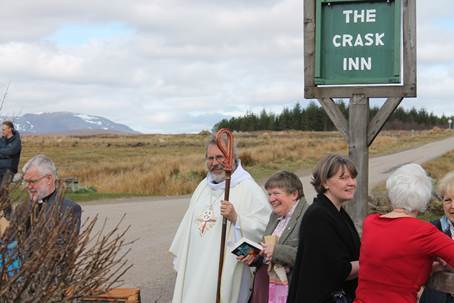 A church has officially blessed a Sutherland pub in the first move of its kind in Scotland.
The Crask Inn near Lairg in Sutherland continues to provide beds and food and drink regularly.
But it also now offers daily prayers, services and spiritual retreats and clergy training.
The Scottish Episcopal Church was given the licensed premises in February last year by previous owners Mike and Kia Geldard – but a series of legal issues stalled the official dedication.
It has been run for the past year by Douglas Campbell, a licensed Eucharistic Minister of the Chalice and his wife, Denise, after they moved there from Hopeman in Moray.
Mr Campbell is personal assistant to the Most Rev Mark Strange, the Episcopalian Bishop of the United Diocese of Moray, Ross and Caithness, who conducted a dedication on Saturday.
Mrs Campbell said nearly 100 people gathered to bless the building, which sits just off the A836 Lairg to Tongue road in a scenic part of the county.
The 53-year-old said the ceremony included singing and prayers in each part of the building and concluded with a feast and a "wonderful fellowship" in fine, sunny weather.
She added: "I think the spiritual and religious aspect will increase but I don't think the hospitality side of things will decrease. The inn side will continue because it's very important for hospitality and meeting people.
"I don't think a day goes by without someone coming in."
Following the dedication, Bishop Mark said the inn – an old coaching hostelry which dates back to 1815 – was "filled with joy and fellowship truly living up to its mission as a place of hospitality."
Services have been taking place once a month but this will now increase to twice a month and visiting priests will also be able to hold services there.
And Mrs Campbell said she and her husband plan to convert a barn outside to provide space for Christian groups wanting to make use of the facilities for workshops.
She said they have assured the church that they will run the inn on behalf of the church for five years and that they will consider keeping it after this time.
Any profits made will go to the church.