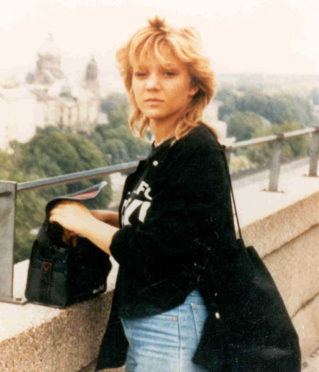 Police have received more than 30 calls following a 30th anniversary appeal about the murder of a German backpacker who spent time in the Highlands in the days before.
Inga Maria Hauser was murdered in Northern Ireland in 1988, but no one has ever been convicted of killing her. The night before she travelled to Ireland, the 18-year-old tourist stayed in Inverness.
A fresh appeal for information was launched last month and detectives travelled to Scotland in an attempt to piece together her final movements.
Highland link to murder of German backpacker Inga Maria Hauser who was killed 30 years ago
And detectives in Police Service of Northern Ireland's serious crime branch have now received over 30 calls from members of the public as a result.
The officer in charge of the investigation, Detective Chief Superintendent Raymond Murray, said they are "currently assessing" the calls and that there have been some "interesting" developments in the appeal period.
Det Chf Supt Murray said one strand of the operation was to identify a man whose DNA was found at the crime scene. He said the previous DNA screening process involved hundreds of people, but they have carried out further familial screening with more advanced DNA science.
He added: "We still believe we are extremely close to progressing criminal justice action against Inga Maria's killer or killers."
Miss Hauser, who was from Munich, was last seen alive 30 years ago as she journeyed by ferry from Scotland to Northern Ireland on April 6, 1988.
Her body was found dumped in a remote part of Ballypatrick Forest on the outskirts of Ballycastle, Co Antrim, a fortnight later. Police believe she died shortly after arriving in Northern Ireland and that she was subject to a vicious and ruthless assault.
But she had been in Inverness, cashing a £20 travelllers' cheque, in the days before she left Scotland.
He poignant notebook entries from the time revealed that she had breakfast in Inverness and that her journey south to Glasgow as "beautiful."
The case has received a lot of attention over the years and Det Chf Supt Murray said anyone with information about the murder "owes it to her family" to come forward.
And he also made a direct appeal to the family and friends of the murderer or murderers to come forward, stressing the last 30 years have been "torture" for the Hausers.
Miss Hauser's father died not knowing who killed his daughter and her mother has been ill for many years.
Part of a letter issued by police on behalf of Miss Hauser's heartbroken sister, reads: "The fact of being confronted with this murder for a lifetime is just cruel, sick, sick. So I ask you to come forward within formation, otherwise my sister's soul will never rest."
Anyone with information should contact detectives in Maydown on 02871379783.