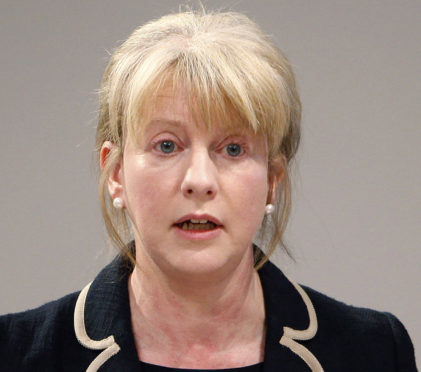 Health Secretary Shona Robison has admitted that NHS Highland's failure to audit a controversial GP surgery contract for two decades was "not acceptable".
But the SNP minister also revealed that an investigation over the use of endowment funding by NHS Highland and other boards, following a controversy over the issue at NHS Tayside, had found no "cause for concern".
It emerged last month that an Audit Scotland-ordered report had discovered that an NHS Highland agreement to provide intermediate care at Nairn Healthcare Partnership had been in place since 1998 but had never been subject to a formal tender or "value for money" assessment.
Health Secretary Shona Robison under fire over NHS Tayside and NHS Highland controversies
The leaked report also revealed that when the £200,000 contract was renegotiated, money had been paid out for several months between 2016 and 2017 before the new deal was legally agreed.
Edward Mountain, Conservative MSP for the Highlands and islands, raised the issue yesterday during a Tory-led debate on NHS finances, after listing a series of other controversies at NHS Highland which he claimed had an "underlying theme of mismanagement and lack of leadership".
Mr Mountain asked: "Does the Scottish Government think it's acceptable that NHS contracts that have been awarded have not been audited for 20 years?"
Ms Robison responded: "The member will be aware that one of those contracts dated back to 1998 and no, that is not acceptable, and NHS Highland themselves have said that it's not acceptable and they will act on the recommendations of Audit Scotland."
The contracts issue emerged last month amid an ongoing row over the management of health boards after it emerged that NHS Tayside took £2.7million from its charity pot to spend on routine costs.
Subsequent reports highlighted the use of endowment funding by other boards, including NHS Highland, which used £1million from the Archie Foundation to help redevelop Raigmore Hospital children's ward.
Yesterday, Ms Robison said she expected "everyone to learn lessons from recent issues at NHS Tayside" and that the Scottish Government would work with the charity regulator on any recommendations over the use of charitable endowment funds.
But she added: "I can however confirm there is nothing in the responses that gives cause for concern and no boards are showing retrospective payments in order to improve their financial position as at NHS Tayside."
She also revealed she had agreed to publish the finances of NHS boards monthly to provide "greater transparency and accountability" following a financial crisis at Tayside.
But Labour's Anas Sarwar said the health secretary had presided over a "series of failings", and added: "Scotland's NHS needs change, change that starts right at the top of the organisation."