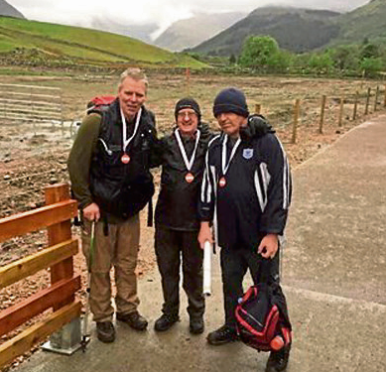 A light-aircraft crash which killed two men who had just completed a charity climb of Ben Nevis was probably caused by poor visibility, an investigation has found.
Pilot Anthony Woodward, 62, and his passenger Robert Archer, 57, were on a journey from Oban Airport to Carlisle when the accident took place near the Mull of Kintyre on May 25 last year.
The Piper PA28 Cherokee aircraft plunged into the sea near Skipness after flying into an area of low cloud, fog and mist that extended from the Irish Sea around Arran and into Loch Fyne.
A report published today by the Air Accidents Investigations Branch (AAIB) found the pilot "was not qualified to fly in 'Instrument Meteorological Conditions'.
"It is concluded that the accident probably occurred as a result of the aircraft being flown in poor visibility.
"While this accident was not survivable, safety action has been taken in relation to procedures for missing or overdue aircraft."
The men, from the London area, had just completed a charity climb of Ben Nevis and were heading to Carlisle, from where they had hired the light aircraft.
Their bodies were recovered from the sea along with wreckage from the plane two miles off the coast of Skipness.
Days before, they had completed a nine-and-a-half-hour fundraising climb for the Shooting Star Chase children's charity. They raised thousands.
A coastguard helicopter was sent to the last known position of the missing aircraft after the alarm was raised. One of the casualties was recovered by winch and the other by an RNLI lifeboat. Neither was wearing a lifejacket.
Witness descriptions of the floating sections of the aircraft, the AAIB examination of the aircraft seats and the condition of the left wing found on the seabed all indicate that the aircraft broke up when it struck the water.