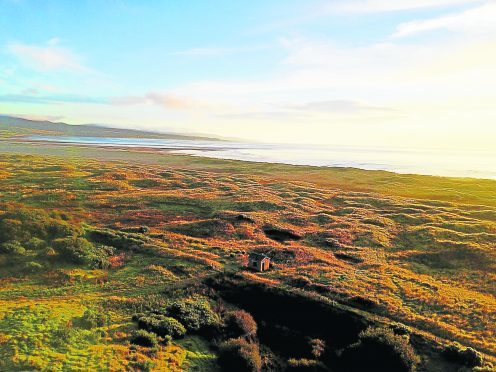 A US town mayor says the billionaire developer behind the Coul Links golf course plans will ensure the project is "good for the economy and good for the environment".
Mary Schamehorn, mayor and native of Bandon, Oregon, said 500 new jobs have been created by Mike Keiser's Bandon Dunes Resort – now five golf courses – and 400 more caddies are employed there in the summer.
She says the development has boosted tourism and and helped retain young people in the town who in the past would have left in search of work elsewhere.
But unlike Coul Links, the affected coastland at Bandon Dunes does not have any special environmental protections or designations.
And critics claim Bandon's coastal ecosystems are "degraded and frgamented" and "endangered" the local farming structure.
Mr Keiser and his design team are working with US businessman Todd Warnock and project manager Chris Haspell to create a "world class" 18-hole golf course near Embo, Sutherland.
Speaking yesterday from her home town, Mayor Schamehorn said: "Mike Keiser's leadership has been critical in helping to restore the local economy in Bandon and Coos County."
At Coul, campaigners say the golf course will damage dunes and wildlife at a site of special scientific interest (SSSI). Developers argue that only 34.6 acres – 1.8% – of the whole SSSI would be affected.
Supporters say it will boost jobs and income through hospitality as golfers will be encouraged to stay longer in the east Sutherland area and play other local golf courses.
It is understood that up to 100 jobs – management, admin staff, ground staff, caddies and pro shop staff – would be created by the development, which Mr Warnock has said previously would not involve building a hotel or real estate.
An economic study done for the Coul developers suggests 250 indirect jobs could be created in East Sutherland as a result of the development.
The proposals are expected to be considered by Highland Council's North Planning committee in early June.
Mayor Schamehorn added: "I am sure that the people in east Sutherland in Scotland will definitely appreciate the value of a Mike Keiser-backed golf course development at Coul Links. Concerns that people have now will be gone once the course is developed.
"He does everything first class and in a very environmentally friendly way. Mike Keiser is good for the economy and good for the environment."
But the director of Oregon Coast Alliance claims Mr Keiser's placement of golf courses at Bandon has "degraded and fragmented" the coastal ecosystems across hundreds of acres, "endangering" the local farming structure by buying out cranberry growers – who require bog land – to gain water rights.
Executive director Cameron La Follette said that although Mr Keiser removed swathes of invasive gorse on the coastland, they should have been restored to their natural coastal dune and forest ecosystem.
He also said that the Bandon Dunes development has turned the once quiet part of the Oregon coast into a "high-octane wealthy visitors' area."
Mayor Schamehorn acknowledged that the employment boom through Bandon Dunes has placed huge demand on the rental market, with a small two-bedroom property typically going for the equivalent of £660 a month.
She said much of the new housebuilding in the area contains holiday rental dwellings.
She acknowledged that there were some initial environmental concerns about the scale of the development, but stressed most of the golf course property today remains in a natural state.
Mayor Schamehorn also said that net proceeds from Keiser's Bandon Preserve eco-course provide funding for the Wild Rivers Coast Alliance, an organisation which funds a range of community projects along the Oregon coast.
She said Mr Keiser has also provided thousands of pounds worth of scholarships through the Oregon Community Foundation, as well as caddie scholarships and donations to local schools, police, the hospital and museum.
She added: "Bandon Dunes has put Bandon, Oregon on the map, and there is no telling how many people will eventually locate here because of their positive experiences at one of the resort's five golf courses.
"I would say that Bandon Dunes is a dream come true for all of us."
Bruce Wilson, senior policy officer at the Scottish Wildlife Trust, stressed that Coul Links is an "internationally important" and "highly protected" site for wildlife, adding: "The Scottish Wildlife Trust is not against development, but it has to be in the right place.
"We would urge the developers to work with us and with others to identify an alternative site, where it would be possible to deliver genuine environmental enhancement, rather than replacing rare habitats and wildlife with man-made infrastructure."
Bandon and Embo – then and now
Mayor Schamehorn said the main industries in Bandon in the 1970s and '80s were timber and commercial fishing, but the town turned towards tourism in the late '80s and '90s, which fitted nicely with the Bandon Dunes development.
The first of Mr Keiser's golf courses, Bandon Dunes, opened in June 1999. But there are now four more golf courses – Bandon Dunes, Pacific Dunes, Bandon Trails, Old MacDonald and The Preserve – at the resort, whereas just one would be built at Coul.
Bandon's population has stayed at about 3,100 in recent years and the town is located about 22 miles from the nearest urban settlement.
By comparison, Embo has a population of about 250 people and Dornoch, three miles away, has another 1,200.
Tourism plays a major role in this part of east Sutherland, with the draw of Royal Dornoch Golf Course and Grannies Heilan' Hame campsite in Embo.
But local councillor, Jim McGillivray, says that in recent years Dornoch has lost its place to Golspie as a municipal centre for the local authority and suffered big job losses following the closure of an abattoir earlier in the decade.
The town has seen a resurgence in recent years with delis, tearooms and new shops. There has also been an influx of students at two North Highland College campuses, including many studying golf management.
Mr McGillivray said Embo witnessed a surge in small, independent construction companies from the start of the millenium but stressed there is very little left since the 2007 economic downturn. The campsite is the main seasonal employer for young locals.
Herring fishing provided a rich source of income in Embo up to 1914, with some minor activity up to World War II. But what is left of the once 42-strong fleet is disintegrating at Littleferry on the other side of Loch Fleet.