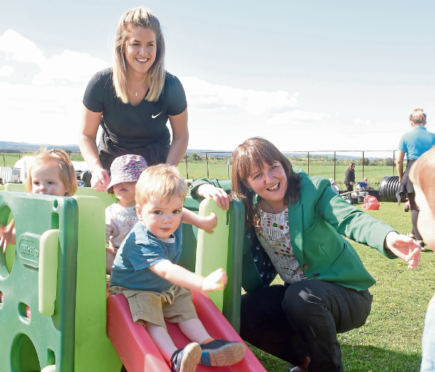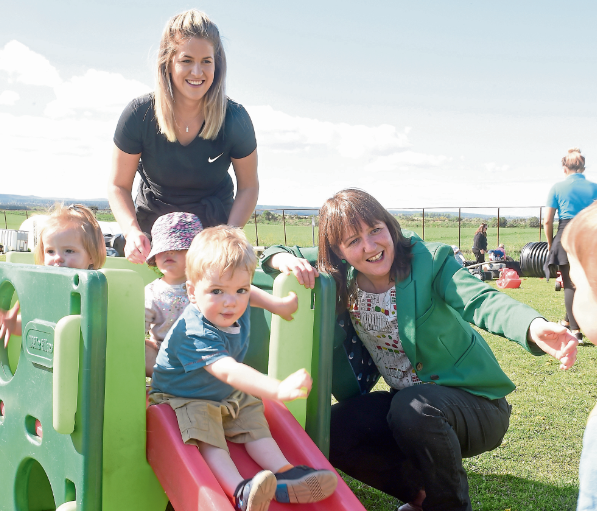 Scotland's childcare minister is urging career changers to consider a future in childcare as part of a new recruitment scheme being rolled out across the country.
The 'A Job and A Joy' campaign aims to highlight the rewards and meaningful nature of a job in the profession – with the aim of recruiting 11,000 people.
During a visit to Country Bumpkins Nursery near Ardersier yesterday, Minister for Childcare and Early Years Maree Todd said: "We know that when people consider changing career they want to achieve a good work life balance and do rewarding and meaningful work. A career in childcare does exactly that.
"We are keen to attract people who might be in other careers or who might not have thought of early learning and childcare to think about a job which will offer living wage and a really satisfying career.
"I spoke to a lassie inside who has changed from being a hairdresser. She just started here a few weeks ago and she is absolutely loving it. She said it's so satisfying. She's really loving the feeling of making a difference and engaging with these children.
Funding for early years and childcare provisions are set to be doubled by 2020, saving parents an average of £4,500 per year.
Mrs Todd said the time for the scheme is now in a bid to bridge the attainment gap between children from poorer and better-off backgrounds; ensuring less fortunate children don't fall further behind their fellow classmates in terms of grades.
She added: "This government has put children at its very heart and there is a determination to close the attainment gap and while there is lots of good work going on at every stage to close the attainment gap, it's easier to close it before it happens. It makes a lot of sense to focus on the early years and that's exactly what we are doing."
Country Bumpkins Nursery manager Nicola Bartlett said: "We have a number of people who have changed careers and moved into childcare here at the nursery.  I think the fact that it's a fun and varied job makes it attractive, and that you're really making a difference to the children's lives so it's also very rewarding.
"At our nursery we like to spend lots of time outdoors and on the nearby beach. We're currently developing an outdoor classroom too, so children can choose to spend the day inside or outside."
Case study: Nursery practitioner Nicola Johnstone
Former hairdresser Nicola Johnstone, 27, originally from Spey Bay in Moray, swapped scissors and comb for childcare with a new job at Country Bumpkins Nursery.
Now three weeks into her role as a nursery practitioner, she has spoken about how her new career came about and hopes that she can become someone parents in the region can rely upon.
She said:" I went away travelling to Australia and New Zealand and I au paired when I was out there. The family I worked for in Sydney, her sister lived in Edinburgh – and I was moving back to Edinburgh – and they needed a nanny so I thought it was perfect. I was a nanny for seven months and then I came back. I went back into hairdressing for a bit but I really missed childcare.
"I moved to Nairn and my friend said Country Bumpkins were looking for a nursery assistant so I thought I might as well go for it as I enjoy the nannying. It's worked out perfectly really; I love it.
"It has definitely made me more chilled out; I don't dread coming to work. You look forward coming to work in the morning. You get a sense of achievement and satisfaction; you get something out of it. They are always happy and when you see them happy, it makes you happy.
"I have the knowledge of dropping the little boy in Edinburgh off at nursery and I know how the nursery workers made me feel. At the end of the day they are putting their trust in me to look after their kids to make sure they are not leaving the room thinking 'I hope they will be okay'. I hope they can leave the room and think 'I know they are going to be okay because they are in safe hands'. I definitely think I can give them the confidence to do that."