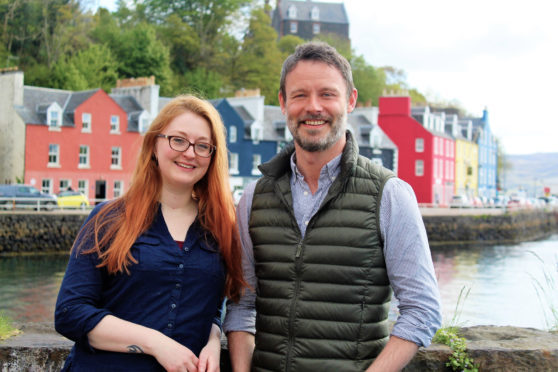 A new scheme to create a network of whale-watching spots up and down the west coast could create jobs and boost the economy.
The Hebridean Whale Trail seeks to develop a series of sites for whale, dolphin and porpoise watching from the land.
Already renowned for its great scenic beauty, the waters off the Hebrides boast a quarter of the world's whale and dolphin species.
Now the Hebridean Whale and Dolphin Trust aims to establish a network of around 25 world-class sea life watching and heritage sites through a £175,000 grant.
The cash comes from the UK Government's Coastal Communities Fund that encourages economic development in such areas.
It is focused on developing sustainable economic growth and job creation meaning the trail is likely to provide a welcome employment boost.
Scotland would be promoted as one of Europe's best destinations for spotting sea life in its natural habitat.
The ambitious plans have been slated for a summer 2019 launch when already existing wildlife tourism businesses and heritage sites will be incorporated to form the trail.
As well as spotting cetaceans the project aims to showcase the history of people's relationships with whales in the Hebrides.
Karl Stevens, Hebridean Whale Trail Manager said: "People currently visit Scotland for the landscapes, wildlife and culture – but not necessarily to see cetaceans.
"With the Hebrides being one of the best places in Europe to see these spectacular animals, we want to add them to the mix – and our research shows that the potential is huge."
To maximise its potential Mr Stevens will look for spotting sites on Scotland's western seaboard from the Clyde to Cape Wrath even going as far west as St Kilda – though most will be on the isles.
He said: "We're keen to hear from local people, communities and businesses for their ideas and suggestions – to ensure the Hebridean Whale Trail embodies the spirit of the Hebrides, and places Scotland's land-based whale watching opportunities on the international map."
The move has won the backing of David Adams McGilp, VisitScotland Regional Partnerships Director.
He said: "This new Whale Trail will help cement Scotland's reputation as one of the best places in the Europe to watch marine life, and provides a platform for local communities to come together and promote everything that makes the Hebrides such a unique and special place.
"With figures suggesting nature-based activities are worth nearly 40% of all tourism spending in Scotland, our natural heritage is certainly an important asset when attracting visitors."