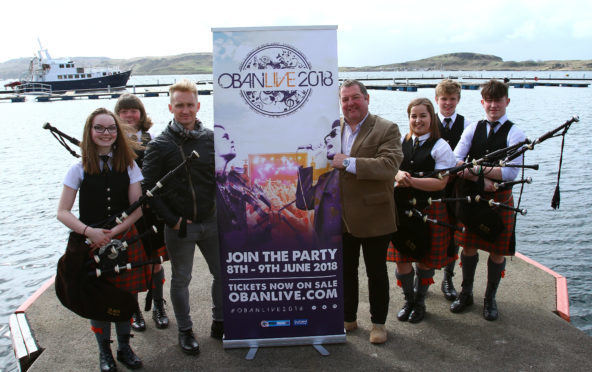 Argyll's biggest open-air live music event has launched a brand new marketing campaign to raise the profile of itself and Oban.
Oban Live, taking place on June 8 and 9, has launched two new films targeting people outwith Argyll, as well as maritime visitors, following an award of £11,250 from EventScotland, part of the national tourism organisation's Events Directorate.
The videos have been distributed via social media, targeting high populated Scottish cities and UK sailing and marine tourism markets respectively. It is hoped the campaign will see the event enjoy a record attendance this year, and promote Oban as an accessible, attractive and marine tourism destination for visitors across Britain.
The first film, titled "The last train to Oban" is about a grandfather who shares his affection for Oban and Oban Live with his granddaughter Emma. Images of the event and the town's scenery and culture are shown whilst the grandfather recites his poem "Lovely Oban". Viewers can also enjoy stunning shots of the train journey to Oban.
The second video, "Sail to Oban Live" follows three very different yachts making their way to the event – sailing in and around Oban Marina, the new North Pier pontoons and Dunstaffnage Marina.
Now in its third year Oban Live features a mix of traditional Scottish artists and international superstars and entertains around 8,000 music lovers at the famous Mossfield Stadium.
This year's line-up includes Skipinnish, Irish rock band Hermitage Green and festival favourites Skerryvore.
Daniel Gillespie, director of Oban Live, said: "When visitors come to Oban Live, not only do they get to experience an impressive, authentic Scottish music concert, but they also get to experience all that is on offer in the unique and cultural location of Oban. This funding from EventScotland has allowed us to create high quality, engaging content that combines and showcases both the event and the town as one package, which in turn will bring a significant boost to the local economy. A massive thank you to EventScotland for the support."