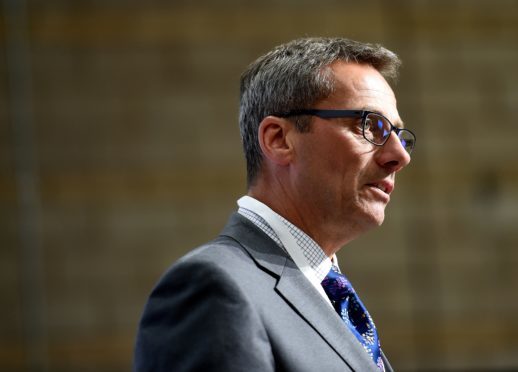 The Chief Executive of the Highland Council has announced he is to retire from his "stimulating and rewarding" role in November after ten years with the local authority
Inverness native Steve Barron said it would be "business as usual" before enjoying the pleasures of "family time and a few more golf courses and hills."
By the time he leaves he will have spent over five years at the helm of the local authority having been appointed to the post in June 2013.
It is the second departure of a top council official in as many months after Bill Alexander announced he would be leaving in October.
Originally educated at Lochardil Primary School and Inverness Royal Academy Mr Barron spent much of his career in the Highlands.
He joined from Robertsons Facilities Management to become Director of Housing and Property in early 2008.
Mr Barron said: "My time as Chief Executive has seen the biggest challenges in decades for local authorities. It has been a time of enormous change for the Highland Council.
"There has been an imperative like no other to transform the Council and we have redesigned services while significantly reducing costs.
"This has been a stimulating and rewarding time and I have been fortunate to be very well supported throughout by a talented and innovative team. It has been a real privilege to serve the Highland Council over this period."
He added: "So it will be business as usual for me until November and then I intend to enjoy family time and a few more golf courses and hills."
Council Leader Margaret Davidson said she was "sad" he was leaving, adding: "Steve is an outstanding Chief Executive who has led the Council through an extremely challenging few years, and he will be a difficult pair of shoes to fill. I wish him the very best for his future plans."