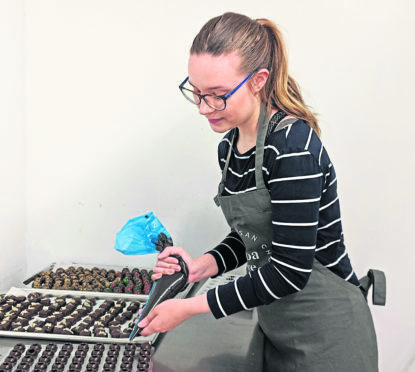 A mother and daughter plan to convert a vacant building in a Sutherland village into a luxury chocolatier, cafe and shop selling local crafts and produce.
Wendy Pearce, 57, and her daughter Cara Nixon, 26, want to expand their Cocoa Skye company in Brora's London House building, which was formerly used as an SNP office until last year.
Mrs Pearce, who is originally from South Africa but has lived in Scotland for 15 years, hopes to create up to five local jobs and open the premises as soon as July.
She also hopes to introduce chocolate making classes and tasting events in the evenings from the start of next year, once the business is up and running.
Mrs Pearce started up her small trading company six years ago when she lived in Uig, while running the Uig Hotel, and moved to Brora in 2014 to run the Sutherland Inn. She said that, in the past few years, she has only been able to sell her handcrafted chocolates at the occasional local market.
She said she is "really excited" about the prospect of opening a premises in Brora, adding: "I have been making chocolates for many years and saw London House and envisage opening a cafe and shop selling local produce and crafts aimed at both locals and tourists.
"I think it will give local businesses an opportunity instead of just sitting at home and not being able to get people who are on the NC500 buying their stuff."
The new shop and cafe would fill the main part of the building and a chocolate kitchen would also be installed.
Artisan hot chocolates, coffees and cakes would be among the items sold.
Mrs Pearce said the new premises would be open to selling local produce, art and wood work encompassing all of the villages in the Sutherland area.
She added: "I am hoping and praying to have it up and going in July. I have already had some people approach me about jobs and we'll have to train some people up."
Luxury chocolatier Cocoa Mountain opened up at a former gift shop in Dornoch last year. Owners Paul Maden and James Findlay started up their business in Durness about 12 years ago and wanted to expand in the historic Sutherland town.
But Mrs Pearce says their offering will be "slightly different" to Cocoa Mountain with more of an emphasis on local produce and crafts.