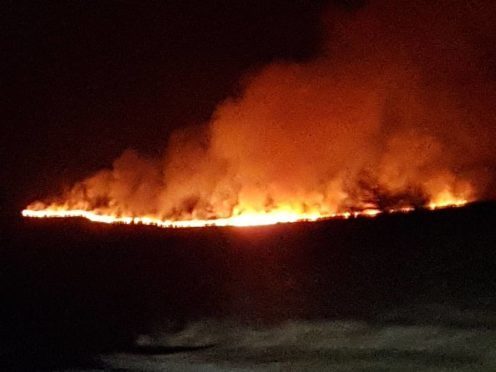 A grass fire in Wester Ross was into its third day yesterday as a man was reported in connection with a separate wildfire on Skye.
Crews were still in attendance at Torridon, where the large blaze first took hold at 10.30am on Sunday.
Firefighters continued to work with water and beaters to contain and tackle the flames.
This follows a further two challenging wildfires across the Highlands and Islands area, both of which also took hold on Sunday morning.
A number of resources mobilised to Achintee in Strathcarron at 6.58am, and to the Sligachan and Carbost area of the Isle of Skye at 9.51am.
Man, 49, reported to the Procurator Fiscal in connection with a Skye wildfire
Both wildfires at Strathcarron and on the Isle of Skye have since been extinguished.
A 49-year-old man will be reported to the Procurator Fiscal in relation to the fire near Sligachan.
Area manager Bruce Farquharson, chairman of the Scottish Wildfire Forum, said: "I would like to take this opportunity to praise the outstanding efforts of our firefighters across the Highlands and Islands over the last few days.
"Their swift and professional response – working quickly and effectively in difficult conditions – has led to two large and challenging wildfires being extinguished, and we are now making good progress in Torridon."
Police Scotland also praised the efforts of firefighters across the Highlands and Islands.
Inspector Lynda Allan said: "It is thanks to the tireless work of retained and full-time firefighters that these fires have been brought under control with no injuries or significant damage to property.
"I would urge people to enjoy the fine weather we've been experiencing responsibly.
"Conditions are extremely dry in the Highlands so please be very careful if discarding cigarettes or using naked flames.
"Police Scotland will continue to thoroughly investigate the cause of wildfires and report anyone found to be responsible to the Procurator Fiscal."
A warning for an increased risk of wildfires is in place across Scotland until tomorrow.