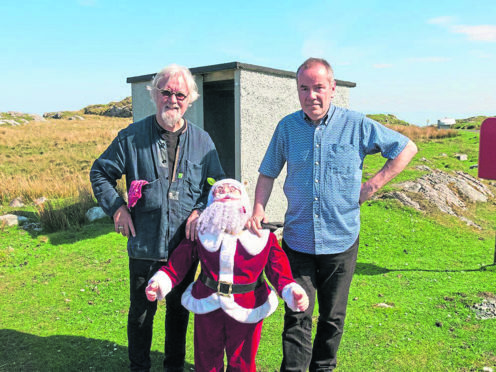 Scottish comedian Sir Billy Connolly has made a flying visit to the Outer Hebrides.
The 75-year-old spent two days this week filming on Lewis and Harris for a new BBC programme.
Among the places he visited were Harris Tweed Hebrides, the main producer of Harris Tweed, the uninhabited island of Scarp – the scene of unsuccessful experiments with rocket mail, since commemorated in two films – and John Maher, the drummer with punk band Buzzcocks, who is now an acclaimed photographer who lives on Harris.
Mr Maher's portrait of Sir Billy is under wraps until the TV programme airs later this year.
It is also believed Sir Billy visited the restored Lews Castle in Stornoway, which also houses some of the famous Norse-period Lewis chess pieces.
The Scottish comedian and musician last month again spoke about his battle with Parkinson's disease.
But Sir Billy hasn't allowed the health ailment to slow him down as he was knighted at Buckingham Palace for services to entertainment and charity last year.
The Glasgow-born star, who has been married to wife Pamela Stephenson since 1989, admitted the momentous moment was "nerve-racking" as he was trying hard not to fall over.
Discussing the big moment in an interview with Radio Times, he said: "It was a big bit nerve-racking.
"You think, 'Oh God, don't trip.' Or worry you might make a rude noise."
Sir Billy was diagnosed with the progressive neurological condition in 2012, with symptoms including slow movement, stiff and inflexible muscles and involuntary shaking.