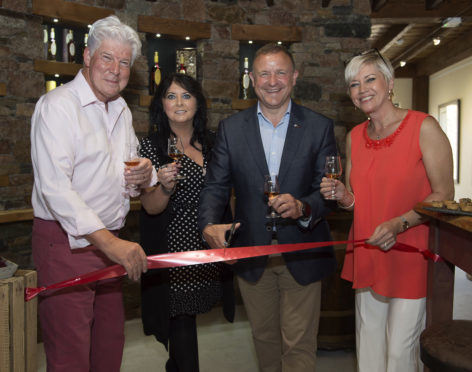 A new whisky visitor experience has been launched in Aviemore by Speyside Distillery following a six-figure investment.
The creation of a new hub for the distillers at Aviemore Retail Park, named The Snug, has created two full-time and four part-time jobs.
It follows an investment of £200,000 by operators Speyside Distillery, with the Highlands and Islands Enterprise (HIE) contributing £90,767 towards the project.
Distillery chief executive John Harvey McDonough said: "We describe Speyside Distillery as the secret distillery because it's hidden from the public, but all that is going to change now.
"The Snug will allow us to have a presence in Aviemore, and the distillery itself will continue to welcome a very limited number of people in pre-organised visits.
"Whisky has been in my family for centuries and my late grandfather, Alec Harvey, conducted his whisky trading business from Seaham Hall in Sunderland where he used to frequent a local pub, with a busy bar named The Snug.
"He regarded The Snug as something of a village community for the locals, as they all gathered there to share their life experiences and help each other out – always, of course, over a drink.
"And that's what we want to do with The Snug; work with the local community and create a focus for the distillery, while also helping a local charity and stimulating the economy of the Cairngorms."
The centre's official opening ceremony was performed by Drew Hendry, MP for Inverness, Nairn, Badenoch and Strathspey.
David Taylor, account manager for HIE, said: "Speyside Distillery is recognised as one of the best exporting companies in Scotland.
"This new, innovative development will give the distillery an anchor in Aviemore, creating jobs, supporting the local community and providing a visitor attraction that brings a new dimension to the tourism offering in the area."
In conjunction with the Cairngorm Business Partnership, a percentage of the sales generated from The Snug will be donated to a local community transport scheme, Where 2 Today. Managing director Patricia Dillon said: "The Snug will be a first-class facility for our team and global brand ambassadors, customers and VIP guests; a place where they can further establish their knowledge and understanding of Speyside Distillery, its craft spirits and art."