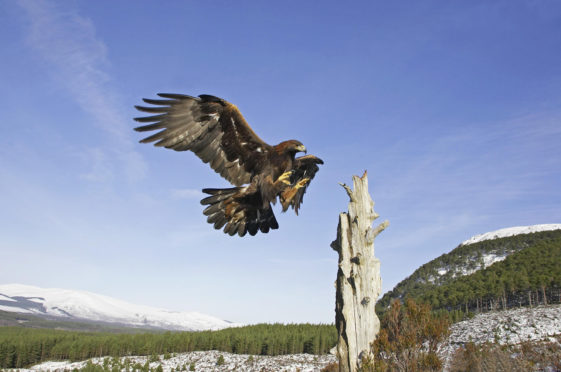 Police have launched a major probe into two serious wildlife crimes in the Highlands – including the theft of golden eagle eggs.
Wildlife officers are also investigating the killing of rare freshwater pearl mussels from the River Spey.
Police believe an audacious egg collector was responsible for the theft of eggs from a golden eagle nest which was disturbed in the Kincraig area on Monday.
Wildlife crime officer Constable Daniel Sutherland said: "We can confirm that after having visited the nest, the tree has been climbed and the eggs stolen from within the nest.
"We are working with the landowners who are supportive of wildlife and are extremely disappointed that eagles nesting on their ground have suffered at the hands of egg collectors.
"Stealing from the nest of a wild bird is illegal and anyone found to be involved in egg collecting will be robustly dealt with.
Ian Thomson, RSPB Scotland's Head of Investigations said: "It is depressing that this Victorian hobby persists among a small number of people. Golden eagles face enough challenges without this human interference. We appeal for anyone with information about this incident to report it."
In a separate investigation, police yesterday revealed that a number of freshwater pearl mussels were removed from the River Spey last weekend.
The remaining shells from the endangered species were discovered by a member of the public around a quarter of a mile downstream of the Old Spey Bridge in Grantown, near to a fishing hut.
Reporting officer Constable Andrew Courts said: "Pearl mussels are protected under the Wildlife and Countryside Act and this illegal persecution is extremely disappointing.
"Those responsible would have been present in the shallow waters for some time to remove this number of shells and on the bank opening the shells in an attempt to locate a pearl."
Scotland has a total of 21 designated sites for pearl mussels, holding about half of the world's population of the species.
But over the past 100 years, more than a third of rivers that used to contain freshwater pearl mussels no longer do.
Susan Davies of Scottish Wildlife Trust said: "Like all wildlife crime, stealing eggs from nests is a disgraceful act that has no place in modern Scotland.
"Thankfully egg thefts are becoming increasingly rare but golden eagle numbers are still lower than they could be in some parts of the Highlands. Illegal persecution like this incident harms their recovery.
Anyone with information related to either crime is asked to contact police on 101, or through Crimestoppers on 0800 555 111.