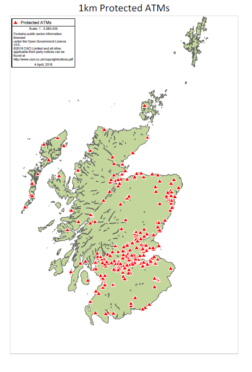 A new map has revealed the remote cash machines that will be protected from closure – but triggered "grave" concerns about the future of fragile communities last night.
Link, which oversees the ATM network across the UK, has vowed to safeguard 221 cash-points in Scotland which are more than 1km from an alternative.
The "protected" ATMs, which are outlined in the new map, will not be affected by next month's cut in the interchange rate which banks pay to operators – a move which is expected to lead to hundreds of unprotected cash machines closing across the nation.
But it emerged this week that the guarantee for rural areas will only last for four years, and it will not save the ATMs from the axe for other reasons, such as the closure of an associated retailer.
Jamie Halcro Johnston, a Conservative MSP for the Highlands and Islands, grilled Link bosses on the issue at a meeting of Holyrood's economy committee earlier this week.
He said that the map raised alarm bells about the future of many local communities which have been left with just one ATM.
"This new information lays bare the grave situation we are facing," he said.
"For communities across the Highlands and Islands, having easy access to cash is absolutely vital for local residents, visitors and small businesses.
"This map suggests two things – that there is both a shortage of cash machines across the Highlands and Islands, but also that there are many communities where there is only one cash machine left and its loss would leave that community without a cash machine at all."
The cut in the interchange rate, from 25p to 20p per withdrawal, is expected to lead to the loss of up to 10% of the 5,400 free-to-use ATMs in Scotland, at the same time as communities have been left reeling by bank branch closures.
However, Link has also pledged that a subsidy – thought to be worth up to £2million across the UK – would be used to help keep remote ATMs open.
The firm's chairman, Sir Mark Boleat, told MSPs this week that the number of cash machines had doubled in Scotland in the last 10 years but that Link "can't ignore" that cash use had fallen 30% over that time, and was forecast to drop by a further 40% in the next 10 years.
He added: "If we had not done what we had done on interchange, if we had done absolutely nothing, you would have a greater rate of closure of ATMs."