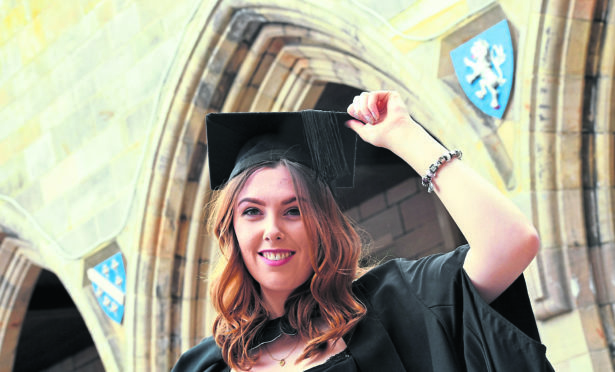 Lauren Lynch found the experience of relocating from a village of 200 people to a city of 200,000 a "scary" challenge.
But she quickly adapted to life in the campus environs at Aberdeen University.
And Ms Lynch, from Munlochy in the Black Isle, graduated yesterday with a degree in English and Scottish law.
It turned into a hugely festive occasion because an army of family members from the Highlands travelled down to share their support for the 22-year-old.
On graduating, she said: "It feels great, although it has all passed very quickly, so there is a bit of a surreal feeling as well. It hasn't really set in yet that I'm not a student anymore.
I like new challenges and that's why I moved to Aberdeen in the first place. It was scary to begin with, but I'm an adopted city girl now.
"I've made so many close friends at Aberdeen University, you aren't confined by cliques like in high school. It really has been a home away from home."
The new graduate had words of wisdoms for students starting out on their academic career in law.
She added: "Talk to your peers and talk to your personal tutor. You won't be the only one to have a meltdown. You might think a particularly challenging class is the end of the world, but you'll get through it – like we did."
Ms Lynch has applied to study for a law diploma in Edinburgh and hopes to become a solicitor specialising in family law.