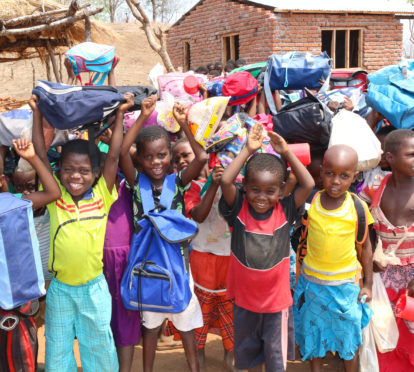 A charity boss has praised Highland pupils for their efforts in helping to provide school equipment to impoverished children in the developing world.
Magnus MacFarlane-Barrow met with about 240 children from the five schools involved in the project at the St Columba School in the Lochaber town on Thursday.
Over the past months, pupils have been collecting products to fill backpacks, such as pencils and notepads, to be distributed to children in need in poorer countries.
Mr MacFarlane-Barrow said: "I met with Mrs Smith, the head teacher of St Columba, who was telling me of the amazing things the pupils have been up to in terms of fundraising and filling backpacks, and it was great to meet with kids from a number of schools from the Fort William area.
"It was very nice to give a wee talk to the kids about our work and we had some fantastic questions from the kids. It was really lovely to see their enthusiasm and see they were genuinely interested in our work. They were very knowledgeable and knew a lot about our work which was really nice and a bit of a surprise to me.
"The children are a great example to all of us and a reminder that we can all help play our part. They have done this in an amazing way and are a source of inspiration to us all."
The school project was the idea of 12-year-old St Columba pupil Bella MacFarlane.
Bella's mother Claudia MacFarlane said "Bella knew about Mary's Meals and the story behind the charity in how it all started. She was very taken when she worked out that other kids don't have as much and decided she wanted to try and get all the schools together to do something."