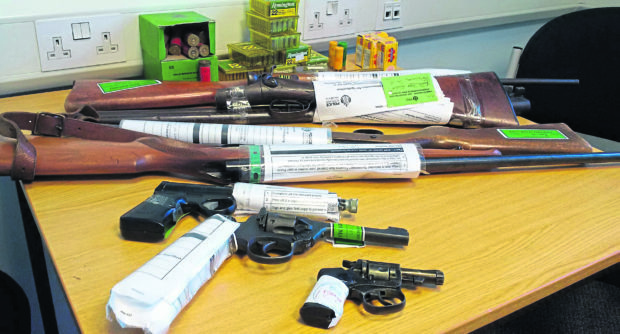 A total of 31 weapons – including 10 shotguns and a revolver, as well as a spud gun – have been handed in to police in the Highlands and Islands in the first week of a gun amnesty.
The collection of firearms surrendered by members of the public also includes 18 rifles – nine of them air rifles – and an air pistol.
A Police Scotland spokesman said: "A mix of ammunition for firearms, shotguns and air weapons has also been surrendered."
The amnesty began last Monday allowing people in possession of firearms and ammunition for which they do not hold a valid certificate to surrender them to police without any fear of prosecution.
In addition, the public will be able to hand over replica firearms, air weapons, BB guns, imitation firearms, component parts and other ballistic items.
At the time of last week's launch Assistant Chief Constable Bernard Higgins said: "Protecting the public sits at the heart of everything we do and the purpose of the Firearms Surrender Campaign is to remove firearms from criminal availability, thereby reducing the risk of harm to the public and our communities.
"Similarly if people still have unwanted air weapons that are unlicensed, or have come across old firearms while clearing out a house, these can be surrendered during the campaign."
Lord Advocate James Wolffe QC said: "We will continue working with partners including the police to protect Scotland's communities by removing the risk posed by illegal firearms.
"Anybody surrendering a firearm or other relevant item during Police Scotland's two week campaign will not be prosecuted for simple possession of the item. The immunity only applies to handover of the weapon and not to any other offence it may be linked to after examination."