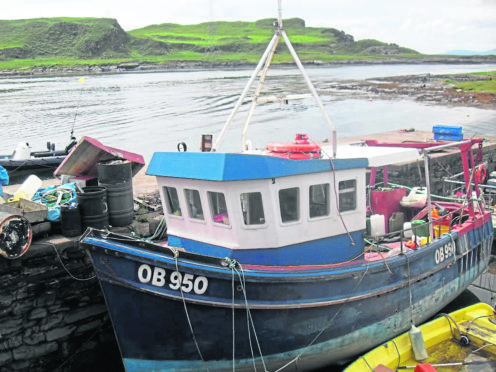 The owner of a small fishing boat, whose sinking led to the death of a father-of-three, should have ensured it was in a seaworthy condition.
That was the view of Procurator Fiscal David Glancy yesterday as the final submissions were made in a Fatal Accident Inquiry into the death of 40-year-old Scott MacAlister.
Mr MacAlister was the skipper and sole occupant of Speedwell, owned by Luing ferry captain John Connell, which sank off Easdale Island on April 25, 2013.
The inquiry earlier heard that the boat had a leaky hatch.
Mr Glancy said: "The owner and master of the fishing vessel the Speedwell should have ensured that the vessel was in a worthy position to proceed to sea.
"A reasonable precaution would be to do all the work to ensure it was watertight and thereby make it seaworthy."
He stated that another precaution would have been for the owner of Speedwell to ensure there were life jackets on board the vessel.
Mr Glancy added: "Having regard to the evidence on the balance of probability, it is my submission that [on April 25] there were no life jackets on board the fishing vessel Speedwell.
"The wearing of a lifejacket would have been a reasonable precaution whereby Mr MacAlister's death might have been avoided."
He also said Mr MacAlister's death could have been avoided if he had made a mayday call earlier when he initially realised the boat was taking on water.
Mr Glancy praised the actions of recreational diver Graeme Bruce who, out of a sense of personal duty, went down to the wreck at 272ft to try to find Mr MacAlister's remains.
He said: "This dive was to a depth far lower than police and Royal Navy divers would do.
"I would ask that this courageous act of generosity is formally acknowledged by the court."
Mr Connell's solicitor Michael Thompson said: "The court must try to establish precisely when and in what circumstances this boat became un-seaworthy. It is John Connell's position that he was simply not aware of this."
He said if there were no life jackets on the boat, regrettably the late Mr MacAlister would have to bear the responsibility of not raising that with the owner.
Lewis Kennedy, solicitor for the MacAlister family, said: "Mr MacAlister had been under pressure from Mr Connell to take the boat to sea."
He called for better regulation of the safety of boats and claimed Mr MacAlister should have reasonably been able to rely on the safety equipment being fully operational.
And he added it would be a reasonable assumption that Mr Connell would have carried out safety checks.
Mr Kennedy concluded: "Mr Connell showed complete disregard for the safety of the skipper."
Sheriff Patrick Hughes said he would issue his findings in writing as quickly as possible.