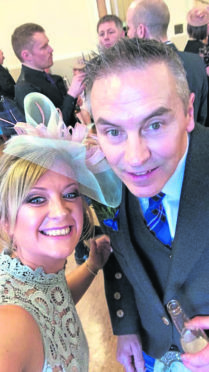 A Caithness woman has started a fundraising campaign to buy defibrillators amid concerns about "stretched" ambulance cover in Caithness after her father suffered a heart attack.
Farrah Budge said she "feared the worst" when she saw paramedics working on her father Tommy Sutherland at a Wick Thistle FC match.
Mr Sutherland is now at home recovering after being treated at Caithness General Hospital and Queen Elizabeth hospital in Glasgow but Mrs Budge remained concerned.
She said: "Seeing my dad lying on the side lines of the pitch is something I will never forget and how lucky he was that the ambulance was there within 10 minutes of the call.
"Since my Dad's heart attack it got me thinking if the ambulance didn't get to him as quick as they did it would be a totally different outcome.
"With how far north we are, how stretched our medical health professionals are – this is extremely important to have to help save someone who may not be as lucky as my dad was."
Mrs Budge was motivated to start raising money for a defibrillator either to go in the teams' kit bags or have one on hand at Bignold Park.
Despite the fundraising having just started there has been a lot of support, not least from local football teams Wick Thistle and Francis Street FC.
Mrs Budge has already organised "a two hour Zumbathon" and even sacrificed a signed Rangers top from the 2002-2003 Cup Final for a 'lucky square' draw at £10 a square.
Mr Sutherland is improving, although Mrs Budge said there were troubling moments when he "lost his short term memory".
She said: "I had even asked him who was the new manager of Rangers and he was unaware even though he had been to see Steven Gerrard at Ibrox not that long ago.
"But each day came with a positive with Dad. He was getting stronger and looked healthier – by the Sunday night he remembered who the new Rangers manager was."
Defibrillators are vital for those who suffer sudden cardiac arrest -those receiving it within the first minute of a collapse have close to a 90% chance of survival.