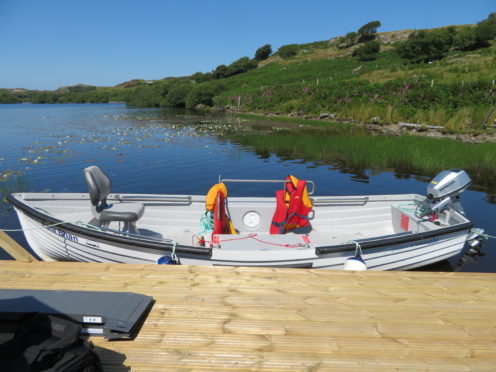 The Assynt Crofters Trust celebrated its 25th anniversary with the launch of a brand new Wheelyboat, capable of taking on board two wheelchairs.
The celebrations mark a quarter of a century since the trust took full ownership of the north estate, spanning an area of 21,300 acres with over 200 lochs in the stunning Highlands.
The joint project between the Assynt Crofters Trust and The Wheelyboat Trust has been made possible through extensive fundraising by both organisations.
Andy Beadsley, director of The Wheelyboat Trust, said: "There is so much more to fishing than just catching fish – being able to take part easily, safely and often independently are important factors that benefits Wheelyboat users' mental and physical health and well-being.
"The Coulam 16 Wheelyboat looks and performs like all other fishing boats, providing the performance of a purpose-built angling boat, but also being able to be used by anyone, disabled or not, appealing to all as a genuinely dual-purpose craft.
"This is extremely important for us at The Wheelyboat Trust – giving disabled people the same and equal facilities of the able-bodied. It is fantastic to see a Wheelyboat at Assynt Crofters' Loch Drumbeg as it is a stunning location that can now be able to be enjoyed by all."
Removable handrails and a hydraulic platform on the Coulam 16 Wheelyboat allow for easy access for wheelchair users with a wide open deck allowing disabled anglers the opportunity to drive the boat. The boat has enough room for two wheelchair users and a companion or boatman.
Ray Mackay, vice chairman of the Assynt Crofters Trust, said: "The Assynt Crofters Trust is celebrating the 25th anniversary of taking ownership of the North Assynt Estate this year.
"We have managed to keep the entire estate together and enabled the ordinary people who live and work on the land some control over their own economic future.
"The lochs on the estate are absolutely stunning and the addition of our new Wheelyboat gives everyone the ability to enjoy and utilise this amazing environment. It is also wonderful to see the freedom a Wheelyboat gives all its users, from the less mobile and disabled, to the young and elderly. This launch will be the first event in a series to celebrate 25 years of the Assynt Crofters Trust."