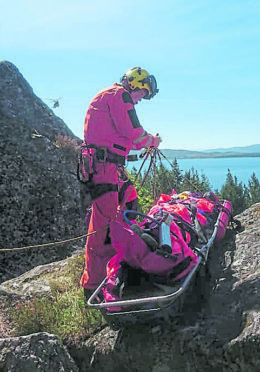 A nine-year-old boy was airlifted to hospital today after falling in a cave in Inverness-shire.
The schoolboy fell on his back while with an organised group at Loch Duntelchaig near Farr.
The alarm was raised around 1pm and members of Cairngorm Mountain Rescue Team reached the boy, who was about 10 feet inside the cave.
"He was in a lot of pain and though he had not fallen very far he had landed on his spine. He was in a very difficult, narrow position inside the cave," said Willie Anderson, leader of Cairngorm MRT.
"We could only manage to get three people beside him. But we managed to get a back mat under him to support his spine and gave him pain relief.
"It was still very difficult to get him out, he was right down a little hole. But we managed to get him out over the course of about two hours and supported by the helicopter winchman."
The boy was taken by the Inverness-based search and rescue helicopter to Raigmore Hospital. His condition is unknown.