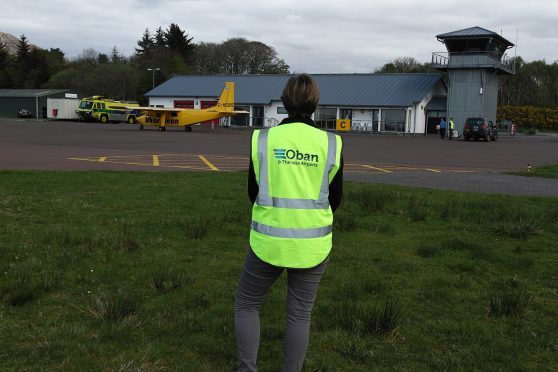 A review is being carried out of the air services between Oban and the isles of Coll, Colonsay and Tiree, with changes to timetable and frequency to be part of the discussion.
Hebridean Air Services operates the service for Argyll and Bute Council at present but the £2,932,032 contract runs out in May 2019.
The review will look at the current usage of the flights and options for timetable, frequency, capacity and route changes.
It will also consider the impact of a reduction or withdrawal in service on the communities, businesses and public sector served.
The tender document states it is "a sensitivity analysis and is not an indication of a proposed change in service level".
An air service is considered essential to the social and economic wellbeing of the islands as it provides resilience in the event of ferry cancellations and helps to counter issues such as depopulation.
It also allows island pupils who attend Oban High School to return home for the weekend without the need for a lengthy ferry journey.
The service faced being temporarily suspended in 2015 after a contract disagreement between the council and Hebridean Air Services.
The local authority had a budget of £2.12 million for these services for the next three years.
Hebridean Air Services wanted an increase in this subsidy because of rising aviation costs.
After talks took place a deal was struck.
The council spent £8.5 million upgrading the airport at Connel, before introducing the scheduled flights to the island in June 2008.
Also being considered as part of the review is best practise in the tendering of Public Service Obligation (PSO) air services elsewhere in the UK and Europe.
Improvements to the passenger experience at Oban Airport will also feature, as will industry interest in tendering for the future contract.
The review is being carried out by Edinburgh based firm DHC for the council at a cost of £8,360 and is expected to be complete by November.
A spokesman for the council said: "The PSO air services provide island residents with access to essential services which cannot be provided locally and also support the development of tourism in Argyll."