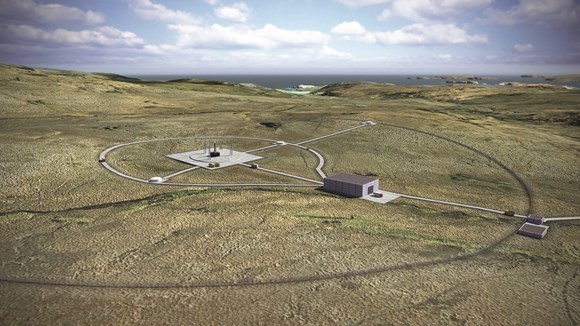 Plans to create a "British Cape Canaveral" in the north Highlands could support 400 jobs and help "reverse" population decline in fragile communities.
Celebrations continued in Sutherland yesterday after it was chosen to host the UK's first spaceport, with detailed designs for the "incredibly exciting" project due to be lodged with Highland Council next year.
It is hoped that from the early 2020s about six small rockets with satellites could be launched each year from the base at The Moine, on the Melness Crofting Estate near Tongue.
Highlands and Islands Enterprise (HIE) revealed yesterday that its board had approved a total funding package of £17.3 million for the scheme, including £2.5 million from the UK Space Agency and £9.8 million from HIE.
Local politicians have hailed the potential impact of the lucrative development on Sutherland, which was one of several areas of the Highlands expected to suffer from a fall in population over the next two decades.
Highlands and Islands MSP Donald Cameron said: "This spaceport will create thousands of new skilled jobs, and I believe it could be a catalyst in reversing the trend of depopulation that many parts of the Highlands and Islands have had to face.
"I look forward to working with the UK Government and HIE to see this incredible project come to fruition."
US aerospace giant Lockheed Martin will establish vertical launch operations in Sutherland and develop associated technologies in Reading, with the backing of two UK Space Agency grants worth £23.5 million.
A further £5.5 million will go to British company Orbex to build an innovative new rocket to launch from the site.
Caithness, Sutherland and Easter Ross MP Jamie Stone said: "The spaceport is an incredibly exciting prospect for north Sutherland – becoming the future spaceport for the whole of the UK, our own British Cape Canaveral.
"The decision to place the spaceport in Sutherland will be a real boost to future employment in the area. Not only that, but it will become a considerable tourist attraction for many years to come."
HIE said that a planning application would be drawn up over the next 18 months and was expected to be submitted late next year. Consultation with the local community is also due to be held.
Economy Secretary Derek Mackay said: "The development of a small-satellite launch facility at the Moine, Sutherland is a significant first step towards stimulating space sector activity across the whole of Scotland and beyond.
"The significant investment, supported by HIE, and an estimated 400 jobs is a welcome boost to the local community and wider Scottish space sector which we are committed to see grow."
Patrick Wood, Lockheed Martin's UK executive for space, said: "The UK Space Agency's strategic vision for a world-class launch market will position the nation for a very bright future in space.
"Lockheed Martin will apply its 50 years of experience in small satellite engineering, launch services and ground operations, as well as a network of UK-based and international teammates, to deliver new technologies, new capabilities and new economic opportunities."
Disappointment in the Western Isles
SCOTT MACLENNAN
Western Isles MP Angus MacNeil expressed his great regret that the Outer Hebrides were not chosen as the site of the UK's first spaceport.
He said it was "hugely disappointing" that North Uist, which had been in the running, missed out to Sutherland.
Mr MacNeil had been heavily involved in discussions on the proposal with the Scottish Government and the Western Isles council earlier this year.
He said: "It is hugely disappointing that North Uist has not been chosen as the site for the UK's first spaceport.
"Uist is an ideal site due to its location and also because of the expertise and experience already in place at the Hebrides Range."
That raft of "expertise and experience is located on the the Ministry of Defence Hebrides Range.
It consists of a "deep" range for complex weapons trials and an inner range for ground-based air defence tests and evaluation.
The 44,401 square kilometre range of sanitised airspace with unlimited altitude means there is already considerable infrastructure in the vicinity.
Both the large area and nearby airfield are ideal for air-launched weapons operations that could have been repurposed for civilian satellite and other launches.
Already existing facilities include a tracking radar facility for real-time data for trials control and safety purposes.
It provides recordings of time, space and position information for trajectory analysis while telemetry is able to receive, record and monitor video and other data streams.
Additionally there are existing mechanical and engineering, accommodation, recreation and medical facility support services.