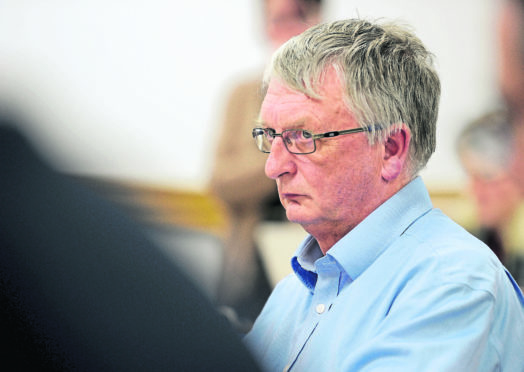 NHS Highland chairman David Alston is facing a call to resign after an independent report recommended the board use mentors, coaches, mediation and formal training courses to improve how they govern.
The Corporate Governance in NHS Highland report was published yesterday as it emerged the health authority was facing a staggering £21million overspend.
Last night, Highlands and Islands MSP Edward Mountain claimed the report "revealed a complete breakdown in management", adding: "It is like a very bad school report card with fail, fail, fail, fail, fail written throughout.
"The report says the chairman David Alston should employ a mentor or coach and there is a need for mediation to create a safe environment. That is astonishing.
"It proves that there has been a management meltdown. There is a real opportunity, now that chief executive Elaine Mead is leaving, to rescue the service and resolve these issues.
"But to do so it is clear that David Alston needs to step down immediately."
North MSP and shadow health spokesman David Stewart added: "Clearly this external review found shortfalls in the governance within the board of NHS Highland and they have made recommendations for improvement under Best Value that I would hope the board will take on and address going forward."
The report, written by John Brown, chairman of NHS Greater Glasgow and Clyde, and Susan Walsh of Healthcare Improvement Scotland, states under the heading "Skills, Experience and Diversity": "The chair, chief executive and board secretary (Ruth Daly – whose role is to ensure compliance with relevant legislation, its own standing orders and codes of conduct) should consider engaging the support of a suitably qualified and experienced mentor or coach.
"The chair should consider externally facilitated support, such as mediation, to provide a safe and secure environment for board members to meet with him and the chief executive to discuss recent concerns and for an agreed way forward to be found.
"For this to be successful, all participants must be committed to speaking honestly, listening actively, and seeking a positive solution."
It added the board should seek the support of an experienced board secretary to provide advice and guidance on roles and responsibilities and to develop protocols for members wishing to raise concerns.
The chairman, it states, should review any outstanding issues or complaints concerning the conduct of board members, adding: "The chair should ensure that all board members are fully aware of their individual and collective responsibilities.
"The chair should seek assurance that board members, including the chief executive, understand and accept their specific role and the accountabilities and responsibilities involved as part of the annual performance appraisal exercise.
"The board secretary should consider completing a formal training programme on corporate governance.
"Consideration should be given to the staffing resources required to deliver the administration support required.
"The chief executive should consider training for all staff in relation to expectations of line management and individuals' responsibilities, the place of governance in the organisation, and how to seek support for whistle-blowing or concerns over other issues."
Mr Alston refused to resign, saying: "With respect to NHS Highland I feel we have made good progress to start to implement the recommendations and develop a longer term action plan.
"It has been a very useful process and as the authors of the report highlight the learning will be invaluable for other boards and public bodies to review their governance systems."
He would not be drawn on whether a mentor, coach, or mediator would be recruited.
A Scottish Government spokesperson said: "In September 2017, in response to the changing governance landscape across health and social care, work was commenced on a review of corporate governance arrangements in boards.
"At the request of the Chair of NHS Highland, his was the first Board to participate in this work.
"The review was undertaken by John Brown CBE, chair of NHS Greater Glasgow and Clyde and NHS Tayside and Susan Walsh OBE, a non-executive director of Healthcare Improvement Scotland.
"The work they have undertaken with NHS Highland forms the template on which the governance reviews will now take place across other health boards.
"We are clear that we expect the issues raised in this report to be addressed by the board."