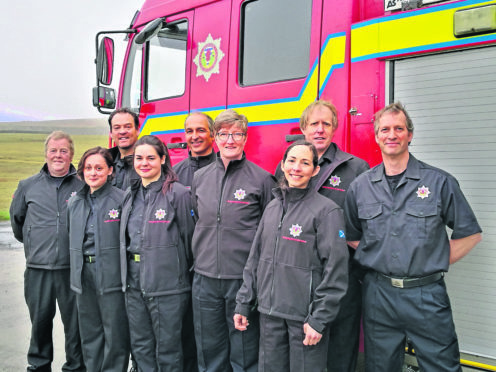 It only has 50 residents.
But four women now make up almost half of Britain's most remote inhabited island fire brigade – after two more recently joined, thanks to a French connection.
Among the latest recruits is a French biologist, who moved to Fair Isle to watch killer whales – but became a retained firefighter instead.
Cloe Faita originally planned to stay on the Fair Isle – lies about halfway between mainland Shetland and Orkney – for five months watching the marine life, including Orcas, in the North Sea.
But after just weeks of living on the mile-wide island, the 22-year-old decided to make the move permanent.
And despite being 100 miles off the coast of mainland Scotland and almost 1,000 miles from France, Cloe found she was not the only French woman living on the one-mile wide outpost, famous for its Fair Isle jumpers and bird observatory.
Marie Bruhat, 26, had also moved to the island which is famed for its knitwear, to pursue her own career in textiles.
And together they decided to join Scotland's most remote retained firefighter crew after falling in love with the community.
The former biology teacher, who grew up in Geneva, has even taken on three other jobs within the tiny island community, including working temporarily as an ecological consultant for a landmark project to deliver 24-hour power to the island for the first time.
The island currently only receives power during daylight hours and can be cut off from the mainland by poor weather for weeks at a time.
Heavily reliant on deliveries by plane and boat, the community will turn to each other for assistance – never more so than in the event of an emergency.
Inspired by their new island family and an appeal for more retained firefighters, both Cloe and Marie decided to step up to protect the island's inhabitants from harm.
Cloe continued: "I knew they needed firefighters – many of the people we knew were already part of it.
"I was available, young and fit – Marie was interested too and was thinking the same thing.
"I never thought about becoming a firefighter before, growing up in France, but I did know I couldn't stand by and watch thinking 'oh gosh I wish I could help' if something did happen."