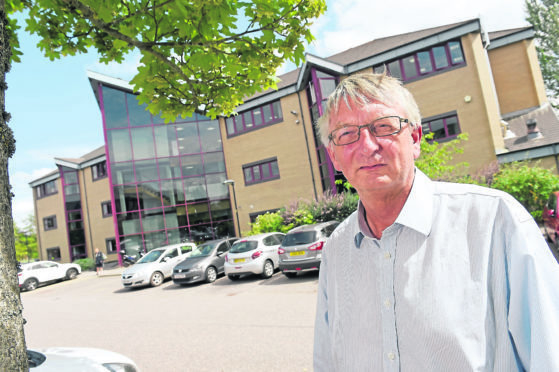 NHS Highland is urging the Scottish Government to make superfast broadband access a "health issue" to enable remote patients to be consulted at home rather than travel hundreds of miles to Inverness.
An innovative telehealth project – called Near Me – launched in Caithness in December has been hailed a major success and is now being rolled out to other remote locations to benefit thousands.
Patients have been attending special teleconference clinics in Wick, saving them from making a 200-mile round trip to the Highland capital for relatively short and straightforward consultations.
NHS Highland bosses want to expand the scheme further so clinicians can carry out consultations direct to peoples' homes – but claim they are being hindered by poor internet access in rural locations.
At a meeting of the health board yesterday, members insisted much more needs to be done to make broadband coverage a "health issue" and improve access in rural locations so this can bring clinicians direct into peoples' homes via the internet.
The board agreed to approach the new Scottish health secretary Jeane Freeman and Highlands and Islands Enterprise in a bid to make internet access not only a business matter but a health one.
It is being supported by north Conservative MSP Ed Mountain, who said he would be raising the issue when the Scottish Parliament returns from recess.
Clare Morrison, senior clinical quality lead pharmacist, said the pilot project in Caithness had seen 26 clinics held so far, resulting in 112 outpatients not having to make a 200-mile round trip to the Highland capital.
These included including orthopaedic, cardiology, stroke and rehabilitation patients.
She said they were now expanding the project across other rural locations, including Lochaber and the west coast, adding: "A target has been set of delivering 20% of outpatient appointments by NHS Near Me by summer 2019."
In April alone, Inverenss dealt with more than 19,000 outpatient appointments.
She added: "Ultimately we want to deliver this to patients' homes, but we have problems with internet connectivity in rural areas.
"Three consulting rooms have been developed in Caithness which provide optimal conditions for video consulting, staffed by a health care support worker.
"The aim is for Near Me to become one of the normal ways in which outpatient appointments are delivered in future."
The scheme is also not adding a financial burden on NHS Highland because of the savings in travel costs.
Board member and Highland Councillor Alasdair Christie said: "This is one of the most exciting initiatives in a long time coming through in Highland. We must champion the cause to get better broadband coverage."
Chairman David Alston added: "Broadband in the Highlands is now a health issue."
The board agreed to take discussions on internet access to the health secretary and at a senior level with HIE.
Highlands and Islands MSP Ed Mountain said: "The Near Me project is a very good idea to stop people coming down for 15 minute appointments and then having to travel all the way back home – which is what is happening at the moment in Caithness.
"I will be taking that back to parliament to make sure that when we next discuss on the [rural economy and connectivity] committee which I convene the issue of broadband we consider it as a health issue and not just an issue of for businesses.
"It is a way forward, absolutely, but it is up to the parliament to deliver on superfast broadband."
Stuart Robertson, director of digital at HIE, said: "Fibre based broadband coverage in the Highlands and Islands has increased from 4% of premises to around 88% since the Digital Scotland rural broadband investment started in 2014.
'The Scottish Government has an aim to bring superfast to 100% of Scottish premises by 2021. It has committed £600m to the next phase of roll-out and a supplier is currently being procured."