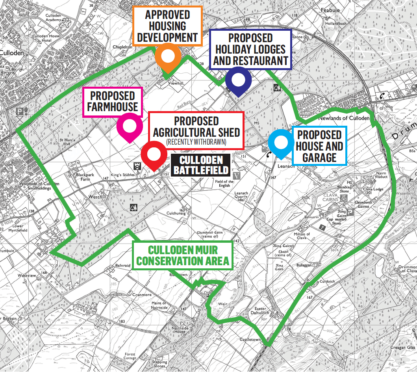 A leading conservation boss has called for a major overhaul of planning laws to save historic heritage sites across the country, including Culloden Battlefield.
Simon Skinner, chief executive of the National Trust for Scotland (NTS), has voiced fears for the future of natural and cultural landmarks following the controversial approval of projects at Culloden and the Coul Links in Sutherland.
His comments come as four new development applications have recently been made within the Culloden Conservation Area – on the back of approval for 16 houses to be built near the battlefield NTS owns.
NTS was opposed to the Culloden housing plan at Viewhill by Kirkhill Homes, and also for a golf course at Coul Links, which was recently given the green light by Highland councillors.
Mr Skinner claims the developments could be "disastrous" for the country's heritage, and has called on the Scottish Government to toughen the planning system in forthcoming legislation to provide stronger protection.
Culloden Battlefield is designated as a Conservation Area, while Coul Links falls within a Site of Scientific Special Interest (SSSI) and is home to rare coastal habitats.
The NTS chief has questioned whether either designation has any meaning any longer if they were simply "going to be run roughshod over" by the current planning process.
With the Planning (Scotland) Bill set to enter its second stage at the Scottish Parliament, Mr Skinner believes the time is right revise the current laws, adding: "Culloden and the Coul Links are just two examples of a worrying trend – Scotland's heritage is too often being cast aside for short-term economic gain.
"The forthcoming bill is the point of no return for Scotland's heritage. It is a watershed that could either prove to be the saviour of some of Scotland's most special places or the prelude to their irrecoverable loss.
"We are at crossroads. Do we want to protect our outstanding historical places and natural heritage or not?
"We are in danger of Culloden suffering the same fate as Bannockburn battlefield."
The NTS boss also criticises approval of the Trump International Golf Links at Foveran Links in Aberdeenshire, on another SSSI with a unique dune system, saying: "We only need to look to Bannockburn and Foveran Links as examples of development trumping reasonable conservation measures.
"Of course, property developers will always play the jobs and economic growth cards – but we need to think long-term."
Aedán Smith, head of planning and development at RSPB Scotland, said: "The Planning Bill is a fantastic opportunity to reprioritise the planning system so that it is about making Scotland's places better in the long-term public interest rather than about encouraging development at almost any cost.
"A number of recent planning decisions, such as Highland Council's decision to approve a golf course on the internationally-important Coul Links wildlife site on grounds of limited local economic benefits, illustrate how the current system is broken.
"There is still time for Scottish Ministers to step in and save Coul Links but the fact that this case has progressed so far highlights how Scotland's planning system desperately needs reformed, putting sustainable development at its heart."
A Scottish Government spokesman said: "The primary responsibility for dealing with planning applications rests with the local planning authority. We're committed to ensuring we have a planning system that works for everyone, recognises the special significance of sites and ensures local communities have a say in their future."
Regarding the Culloden houses, he said an independent reporter concluded they were to be built on an already-developed site and would not have an adverse impact on the integrity or significance of the battlefield.
He added ministers were are still considering whether to call in the application for Coul Links for their determination.
A Scottish Natural Heritage spokeswoman said: "We will be engaging with the forthcoming production of a new National Planning Framework to help ensure that the planning system continues to deliver."
Councillor Jimmy Gray, chairman of the authority's south planning committee, said councillors followed guidelines set down by the Scottish Government and it was up to MSPs to change the laws if they saw fit.