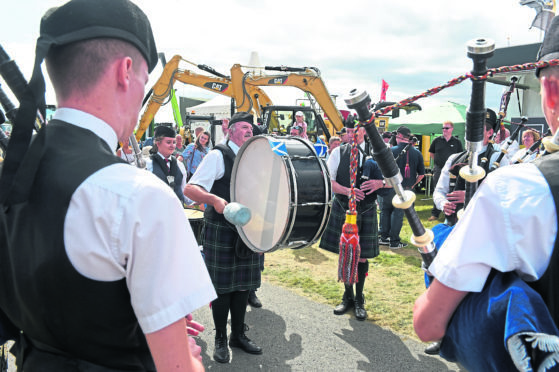 Organisers of the Black Isle Show were celebrating last night after turn-out was estimated to be up as much as 15% on last year.
Well over 20,000 visitors are believed to have attended the 181st show at Muir of Ord.
The show boasted a huge variety of events from sheep shearing to monster trucks flattening cars in an arena surrounded by more than 300 trade stands.
Yesterday opened with horse, cattle and sheep judging starting from 8am and main ring events began at midday.
After that there was the cattle interbreed and pairs competitions, kids' races, punctuated by the monster trucks, followed by a parade of vintage and classic tractors and the judging of the champion livestock.
Rod Mackenzie, Company Secretary of the Black Isle Farmers, said: "The main factor in the success of the day is the weather and today has been very successful by the look of it.
"I am told that the car parks are full, the ground looks full, but it is due to the good weather today and I suppose the good weather in the lead up to the event as well so that does help to make the day.
"Without sticking my neck out too far I would say we would be up 10 to 15% on previous years which had been pretty static in previous years.
"The numbers last year – and we count everybody including the public, stewards, helpers and traders – were anything from 20,000 to 25,000."
Farmer and MSP Edward Mountain believes the show is wonderful chance for farmers to enjoy themselves after a difficult period.
He said: "I think what is really interesting is that I am speaking to a lot of farmers who are enjoying the company and hearing they are not alone in this.
"And a lot of people found it hard winter-wise, are finding it harder to harvest, so I think it is a good chance for people to realise they are not the only one in this boat."
He added: "I love the Black Isle Show – I have been coming to it for 20-odd years and I think it is a great show."