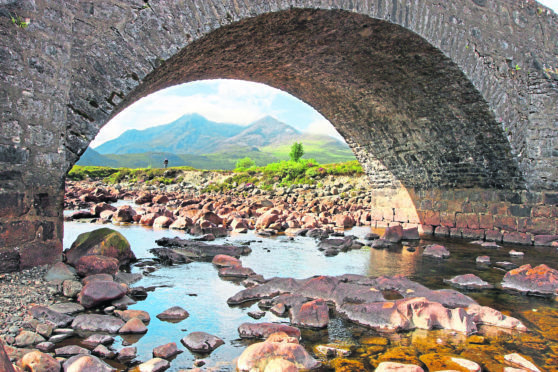 Skye has been backed to become Scotland's next "national park" in an effort to protect its stunning scenery for future generations.
The Scottish Government was last night urged to consider awarding the island the same special status as the Cairngorms and Loch Lomond.
Labour MEP Catherine Stihler has written to Tourism Secretary Fiona Hyslop to suggest designating Skye as a national park following her experience holidaying on the Hebridean island this summer.
She made the call as she added her voice to fears that the local tourist boom could lead to its famous beauty spots being "ruined because of the wear and tear inflicted".
But her intervention emerged amid an ongoing row over whether the impact of visitors has been overstated, with more than 100 local tourism leaders publishing a letter to send out a message that the island remains "open for business".
Scotland currently has two national parks at Loch Lomond and The Trossachs, which was created in 2002, and at the Cairngorms, which was established the following year.
Both have their own park authority, with a board and dozens of staff, who help manage access and development and produce strategic plans to meet established aims of conserving heritage, promoting sustainable use of natural resources, as well as social and economic development.
Local campaigners have previously suggested winning new protections and funding sources for Skye by applying to the UN to make it a world heritage site, or the "world's first bilingual geopark".
But the Scottish Government has now been asked to take action on its own, replicating the model used in the Cairngorms and Loch Lomond.
In her letter, Ms Stihler said: "I would like to enquire what consideration the Scottish Government has given to designating Skye as a national park.
"The designation awarded to Loch Lomond and the Trossachs, and the Cairngorms, helps preserve the landscape and natural environment and could potentially be replicated on Skye – safeguarding its beauty for generations to come."
While describing herself as a "proud supporter of our tourism industry", the MEP said she found "significant overcrowding at the island's beauty spots" while on holiday on Skye this summer.
"I visited the Fairy Pools at the foot of the Black Cuillin mountains to find the car park was full and there were up to 100 vehicles parked on the verge of a single-track road, including camper vans and mini-buses.
"This was an accident waiting to happen," she said.
"I am also concerned that these special pools will be ruined because of the wear and tear inflicted on the paths close by.
"Similar problems with overcrowding could be seen at the car park of the Old Man of Storr, while in Portree the queues of people desperately trying to find somewhere to eat were incredible."
The existing 35-space car park at the Fairy Pools is due be expanded to make room for an additional 130 spaces, alongside the installation of toilet facilities and visitor information.
Ms Stihler also urged Ms Hyslop to intervene in the row over Highland Council's plans to close public toilets and to grant the local authority the powers to levy a "tourist tax" to fund infrastructure improvements.
But last night a Scottish Government spokesman played down hopes that Skye could become Scotland's next national park.
He said: "There are no plans to designate new national parks in Scotland. This would have major cost implications and present a number of complex administrative challenges for local and central government, as well as the communities the national parks would serve."
The spokesman added: "Skye is a fantastic place to visit and remains welcoming to tourists. We are working to ensure that tourism on Skye – a vital part of the island's economy – remains sustainable.
"We will continue our work to protect and enhance the natural beauty of Skye, while promoting sustainable economic growth. Skye is already home to National Scenic Areas, Sites of Special Scientific Interest and Special Areas of Conservation."
More than 100 tourism leaders on Skye have moved to play down the impact of high visitor numbers as they sent out a message that the island is "open for business".
The group – which includes the owners of well-known hotels, restaurants and tour operators, as well as local politicians – have joined forces to sign a letter which suggests their businesses could be "undermined" by "sensationalist stories" about tourism.
Local MSP Kate Forbes, one of the signatories, previously criticised US broadcaster CNN for putting Skye on an "avoid in 2018" list because of an alleged "tourism backlash" among local residents.
The letter states: "Over many years, these islands' residents have built up the tourism industry so that Skye boasts a warm welcome, excellent hospitality and a unique experience.
"Nearly everybody on the islands is linked in some way to tourism, and the economic opportunities of the tourism industry support the rural and remote communities of Skye, Raasay and beyond.
"The tourist industry can be a relatively unpredictable industry and so it concerns us to see sensationalist stories in the press, for a second year running, which could jeopardise the jobs, businesses and income of local people.
"We would hate to see an industry which has taken many years to develop undermined by a few stories which don't fairly depict the efforts of hardworking people across the area.
"While it is true that some areas of the island are busy, it is no more so than the North Coast 500 or the likes of Morar Sands."
The group also highlighted recent investment in improving facilities and infrastructure, including at the Fairy Pools, Neist Point, Quiraing and Storr.
"Tourism makes a critical contribution to the local economy, and indeed the wider Scottish economy, and indirectly enables people to live, work and raise a family on the island," it added.
"As such, we write to categorically assert that Skye and Raasay is well and truly open for business."