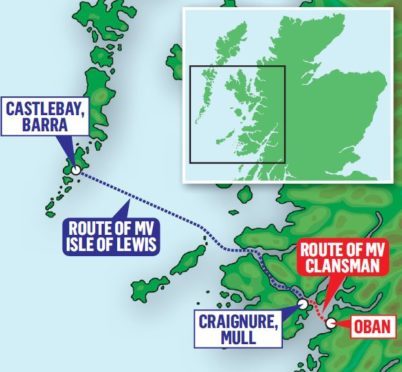 A faulty linkspan meant that ferry passengers from Barra had to travel to Uig on Skye yesterday – 166 miles away from the ship's usual destination of Oban.
It was another day of ferry chaos caused by the "technical issue" with the landing base for a ship's car ramp, which meant the MV Isle of Lewis could not disembark vehicles in the Argyll port.
On Thursday, the larger ferry had to unload at Craignure on Mull, with traffic being transferred onto the smaller MV Clansman which then dropped off the vehicles at Oban's smaller linkspan.
But CalMac said it was too busy at Craignure yesterday to operate the shuttle route to Oban.
So instead, the service left Castlebay at 8am and arrived in Uig at 12.15pm. Foot passengers had the option to get the Citylink bus from Uig at 2.45pm which goes to Glasgow, stopping in Fort William for an hour.
The Isle of Lewis remained at the Uig berth until 1pm when she moved off to allow MV Hebrides in with the scheduled Lochmaddy – Uig service, which departed at 2.10pm with the scheduled Uig – Tarbert service.
MV Isle of Lewis then berthed again at Uig, loaded for Barra leaving at 3.45pm and was due to arrive at 7pm. A bus was laid on to transport foot passengers on the four-hour journey from Oban to Uig.
Andrew Spence, chief executive of Bid4Oban, said: "Oban is losing business.
"This could have a large impact for Oban because of the amount of people that travel through to go to Barra. Especially during holiday season. These people would be using the shops so we need to get this resolved as soon possible."
Councillor Donald Manford of Barra said: "I am pleased that they actually made a decision to ensure that passengers and traffic could get off the island. It's not ideal but it brought clarity to the situation for the day.
"I hope it was a one off."
Caledonian Maritime Assets Ltd (CMAL), which owns the ferry infrastructure, had linkspan designers, installers and engineers on site all day yesterday working to find a solution.
A spokeswoman for CMAL said: "The issue has now been resolved and the Oban Linkspan has returned to regular service."
A spokesman for CalMac added: "Oban Harbour owners Caledonian Maritime Assets Ltd have now successfully addressed the technical issue with their pier's linkspan allowing us to resume normal service again. We apologise for any inconvenience caused to passengers."
This was the latest problem in a "summer of discontent" for ferry travel, which saw Western Isles services disrupted between April and June as all major vessels were reshuffled after the MV Clansman broke down.